&nbsp
Design INC was commissioned to design a plush and chic bungalow for a family of five, the couple, 2 daughters and a mother. Site was located in Rajsamand (Rajasthan), with plot area of 3600 sq ft, approached by 40′ wide road, facing south. The client wanted a modem, well lit, ventilated elegant and exclusive residence, with smart technology. They wanted smooth finished interiors with ample space for amalgamation with nature. The residence was to house all leisure facilities like steam, Jacuzzi, home theatre and personalized sit outside.
A Plush And Chic Bungalow Design For A Family of Five | Design INC.
Visit : Design INC.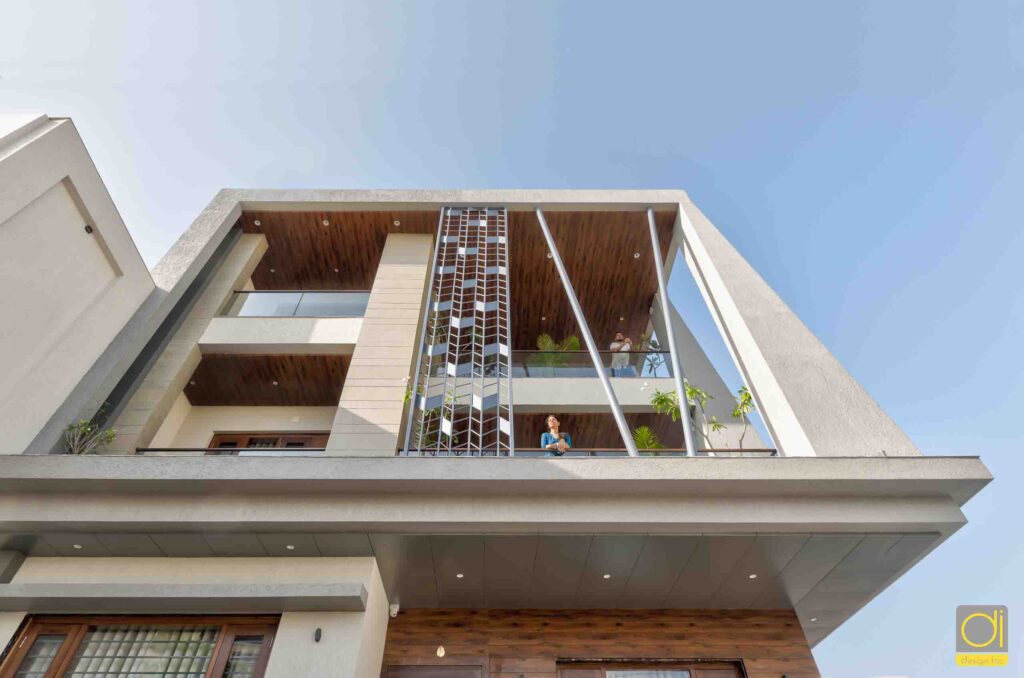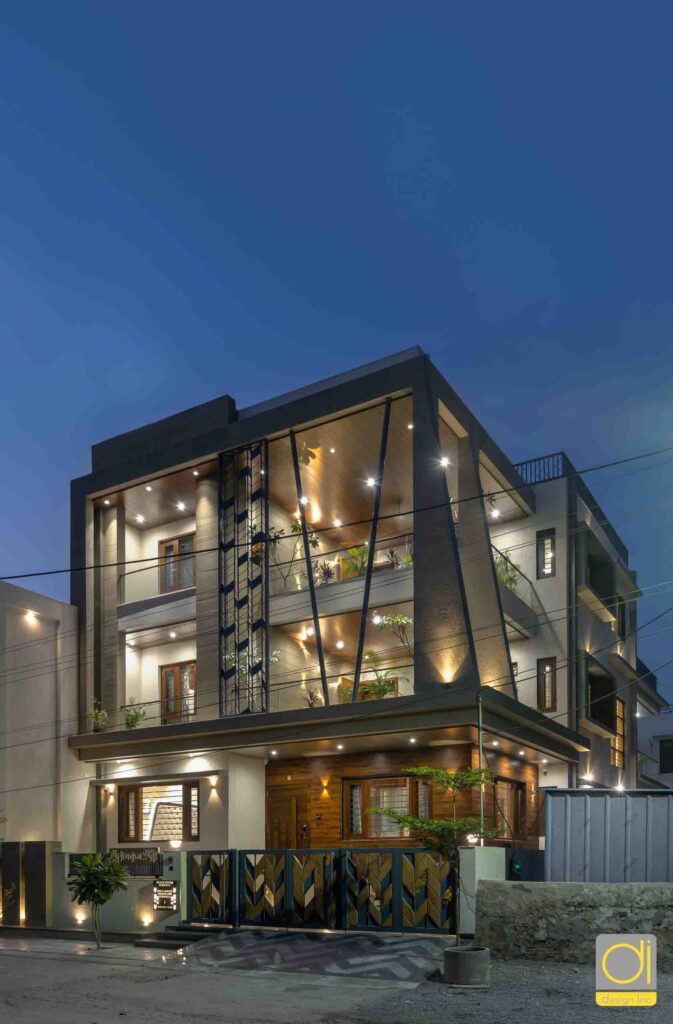 This ground plus two storey residence was designed following basic climatological and vaastu principles. The layout of the residence was planned as an open plan, with interconnected spaces. The ground floor is accessed by subtle, petite entrance, opening in bright drawing room, connecting with open kitchen, living and dining. The instigating entrance to the open space inside, exquisitely adds to the essence of spatial fabrication.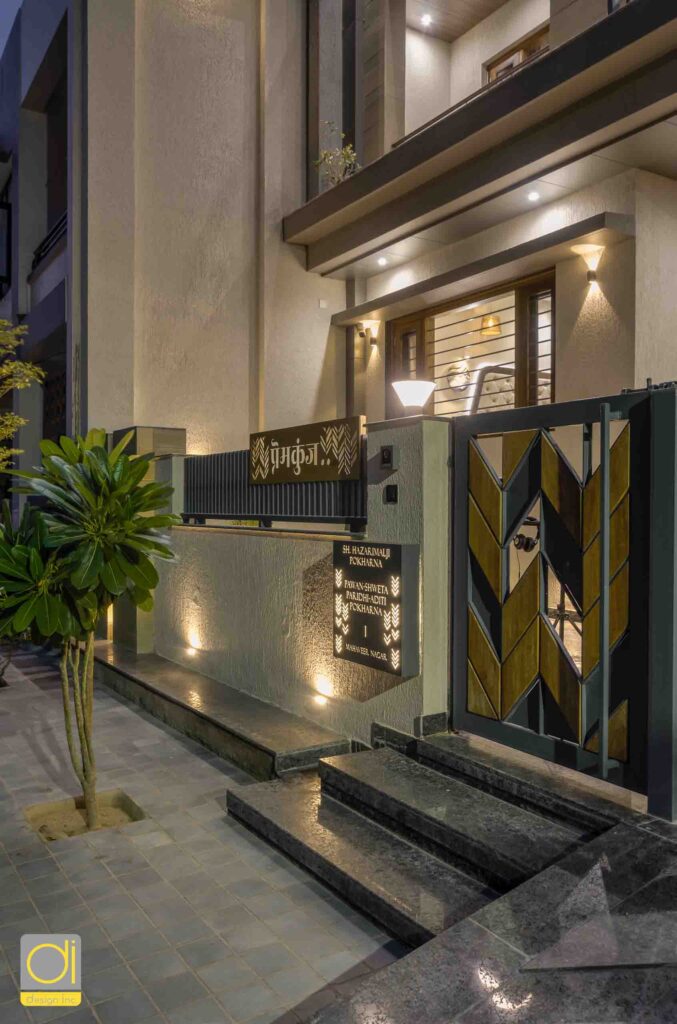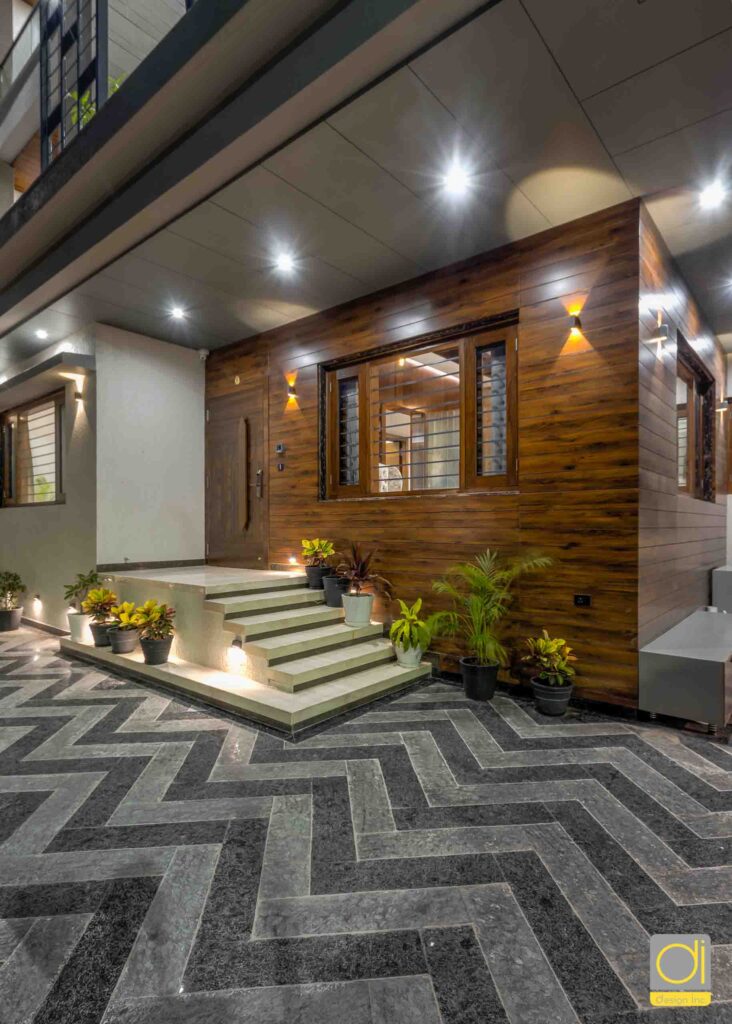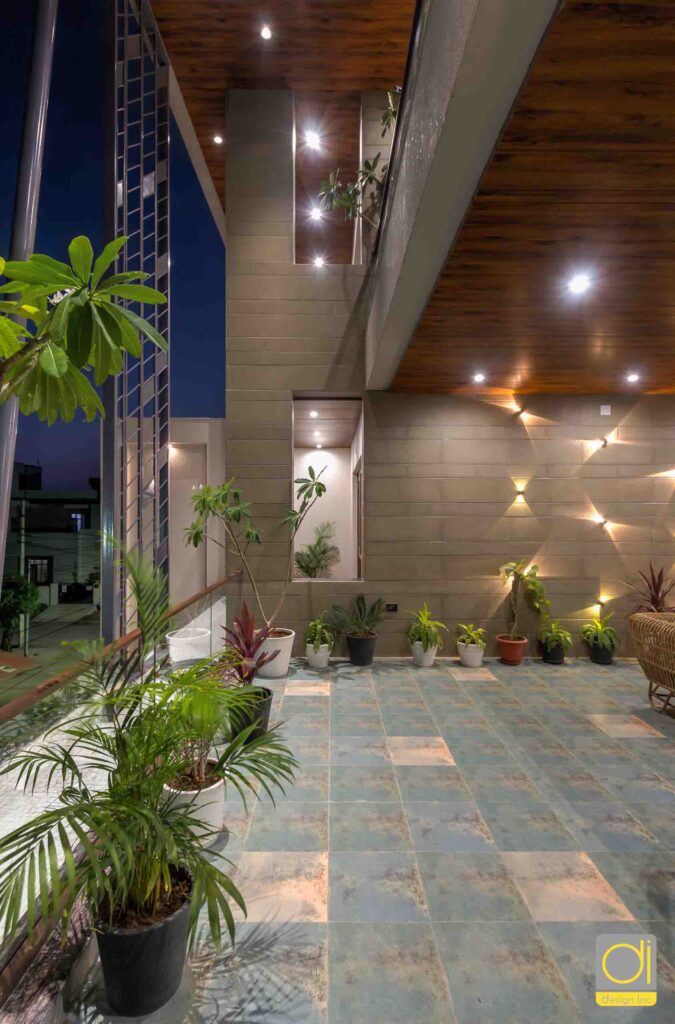 Private and guest entry has been segregated on ground floor, which houses 2 bedrooms and livable spaces. Sizes of bedrooms are kept genuinely spacious, master bedroom being size of 13'6″ x 20', dress and toilet. Mother's bedroom measures of 12'6″ x 17′ with facilities.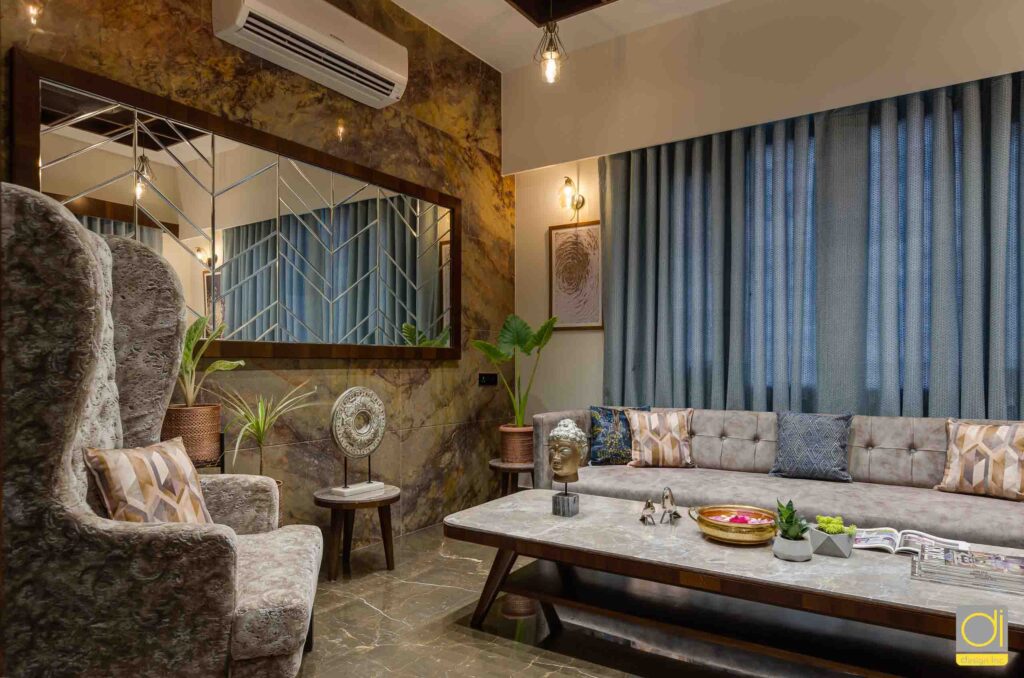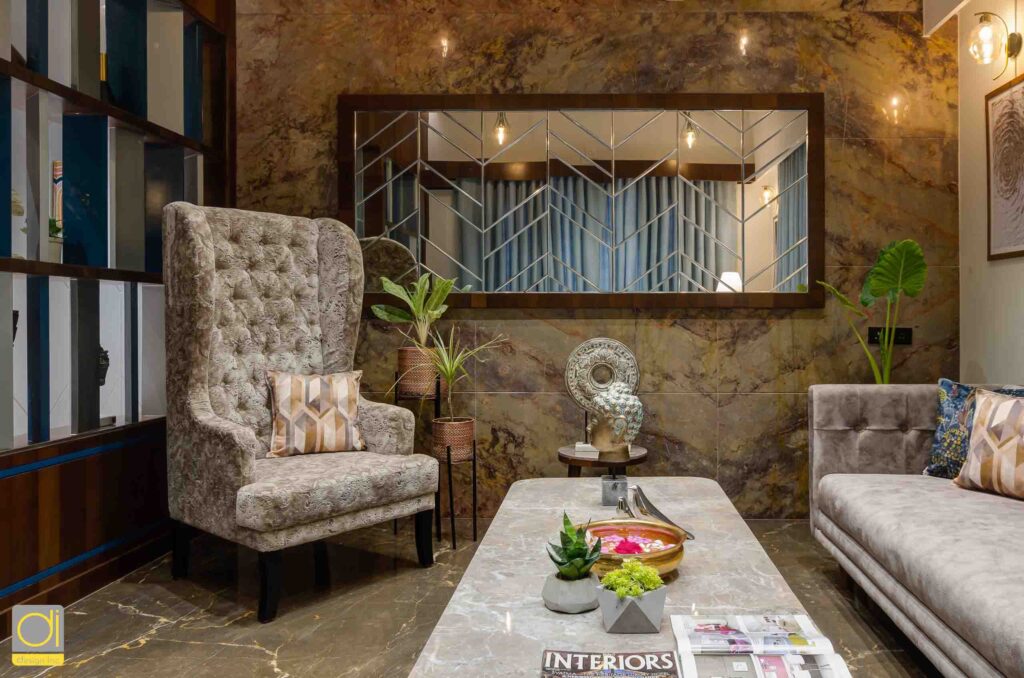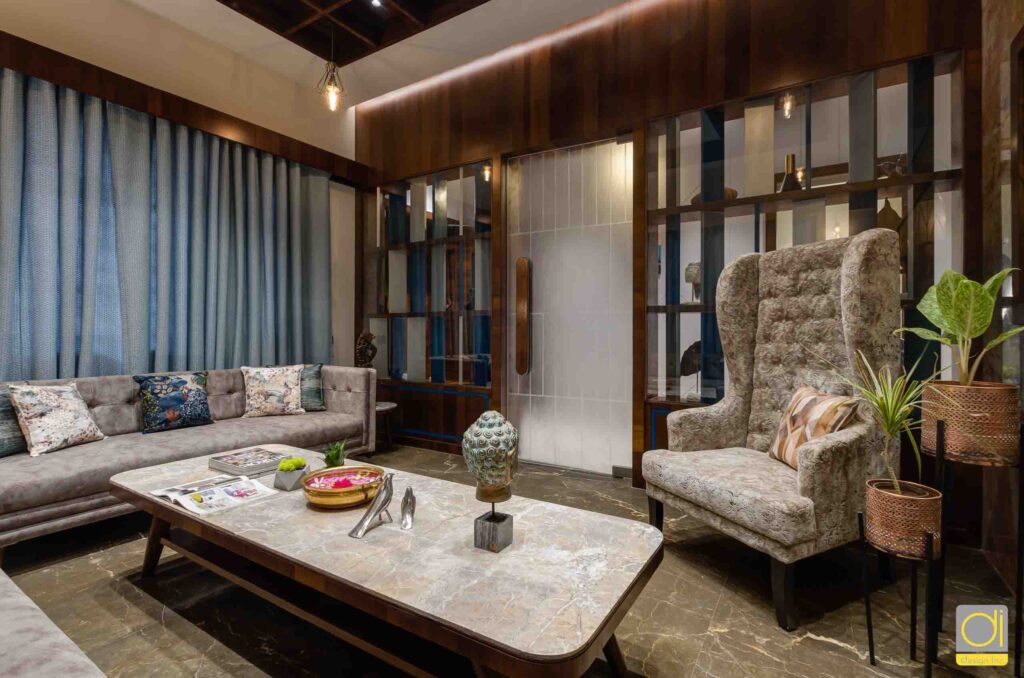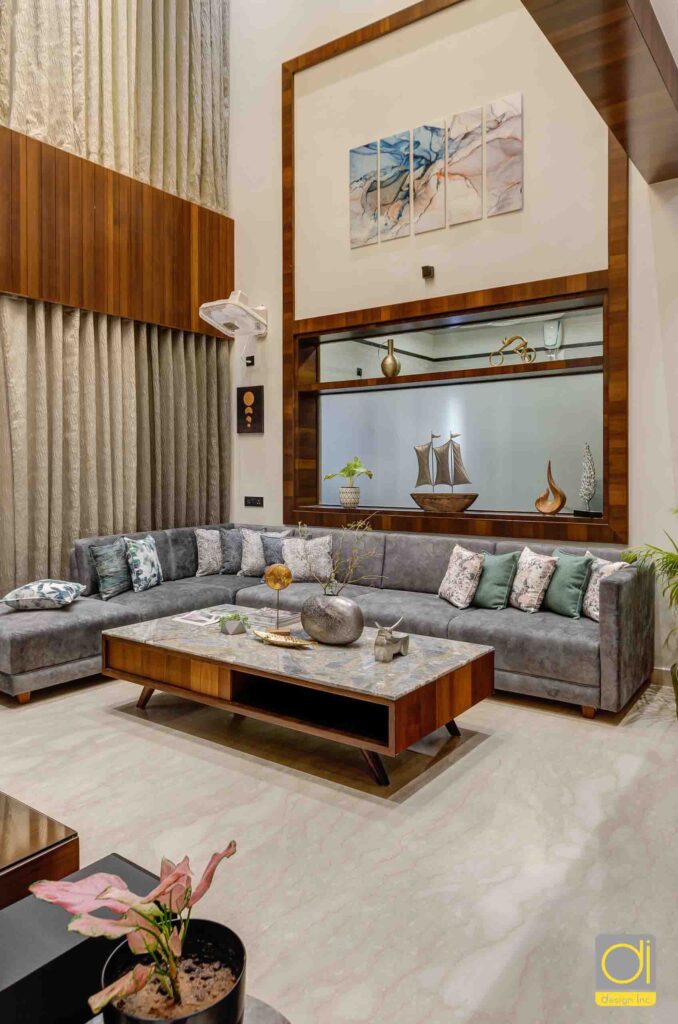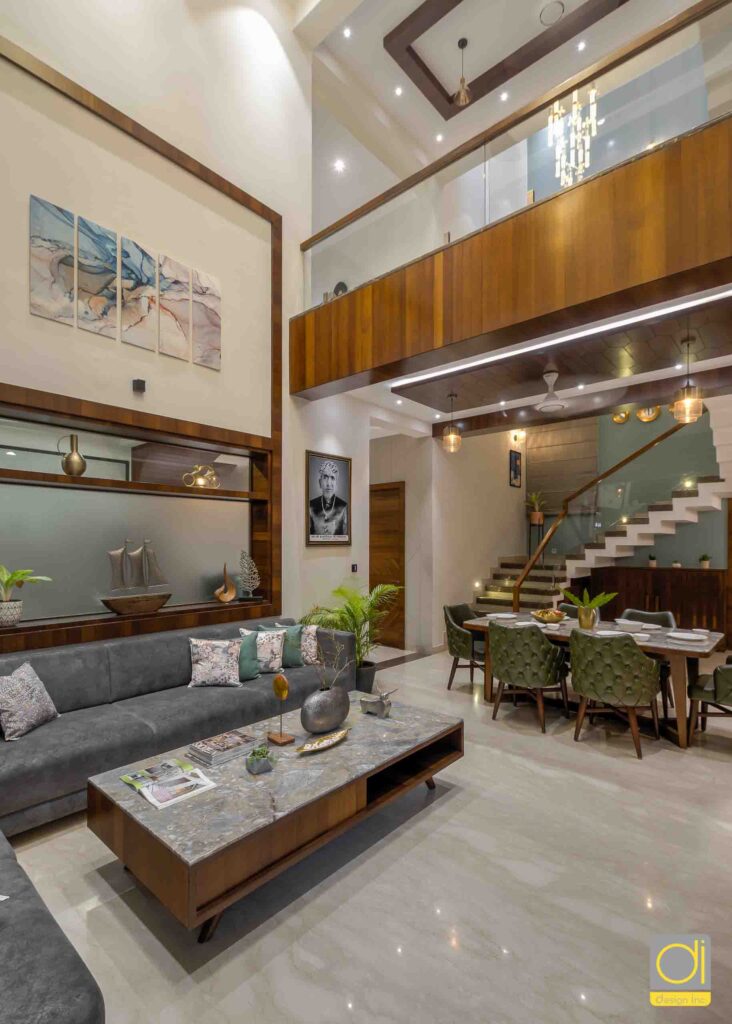 Daughter's bedrooms are regular in size, measuring 16' x 16', along with leisure facilities.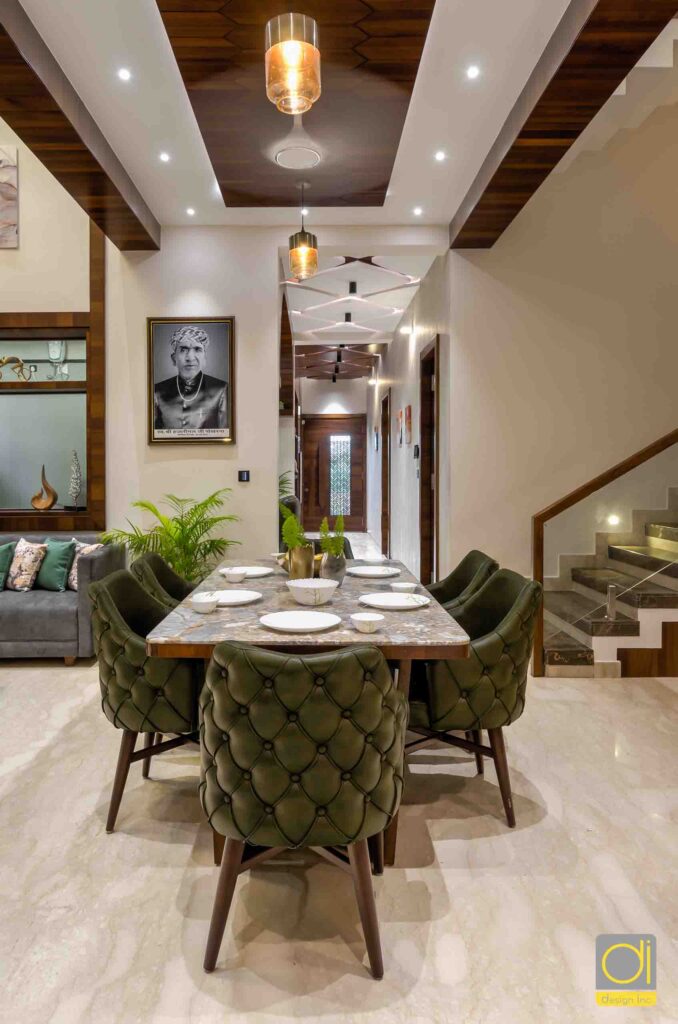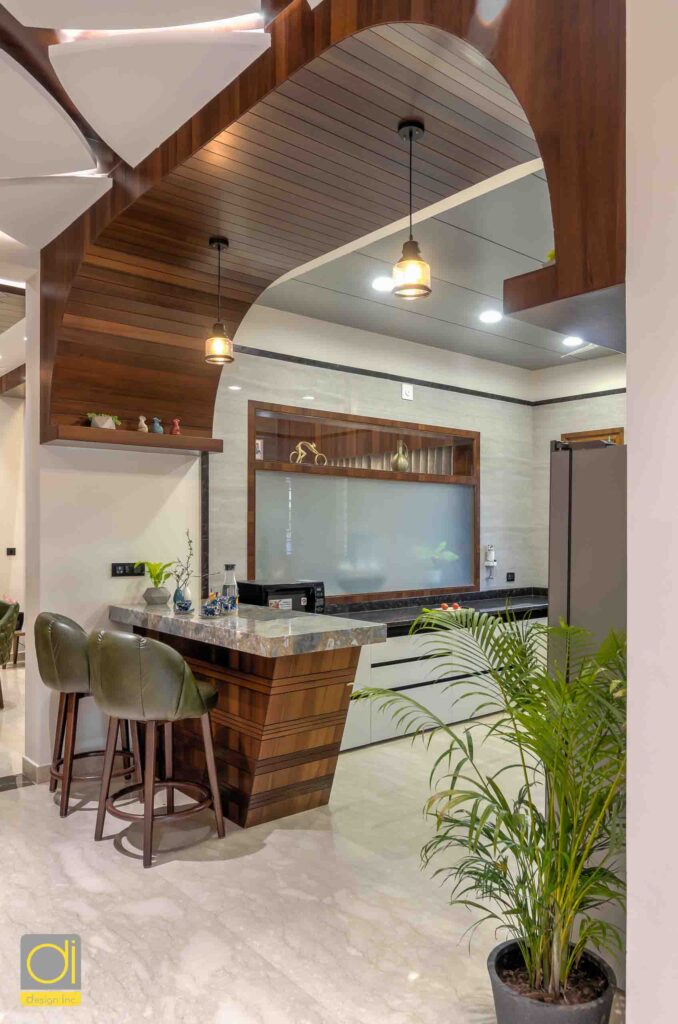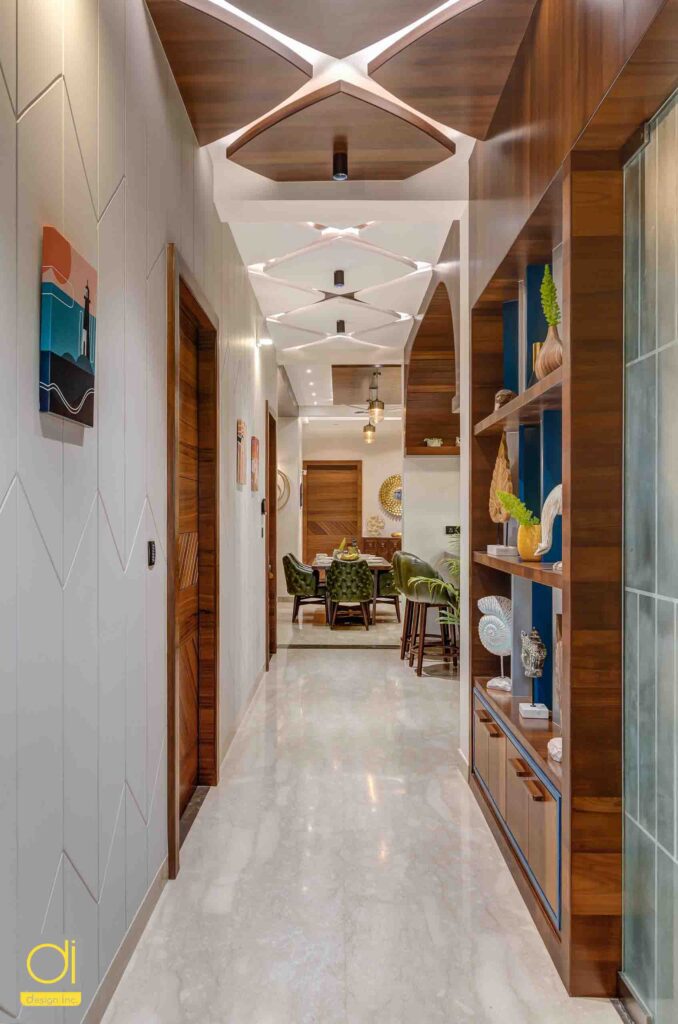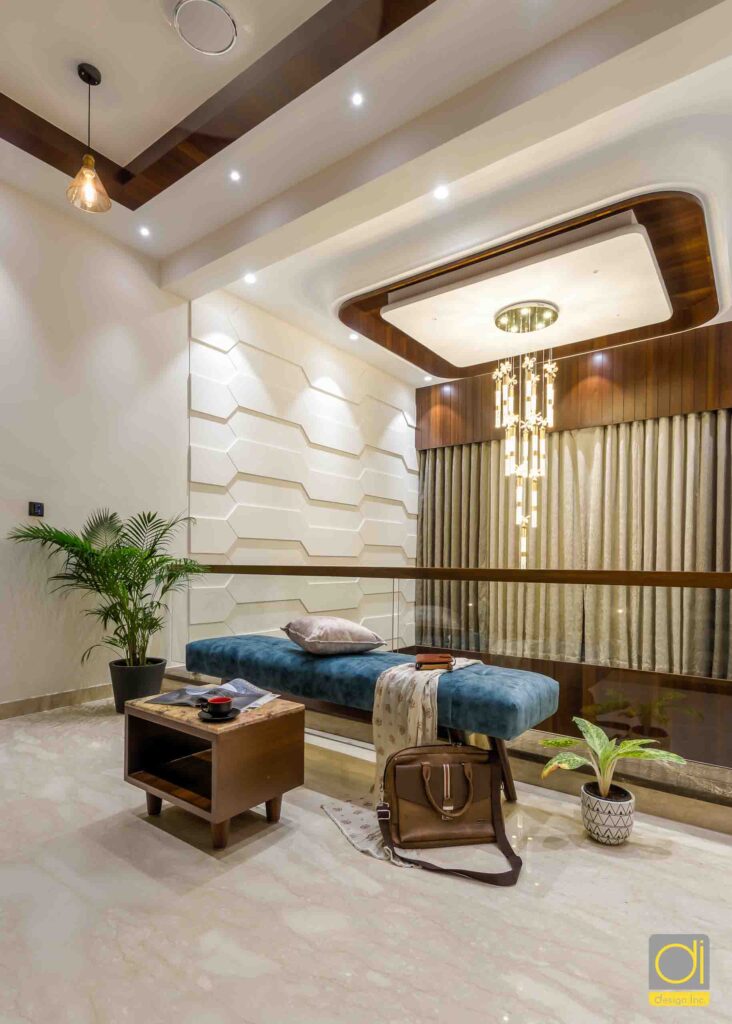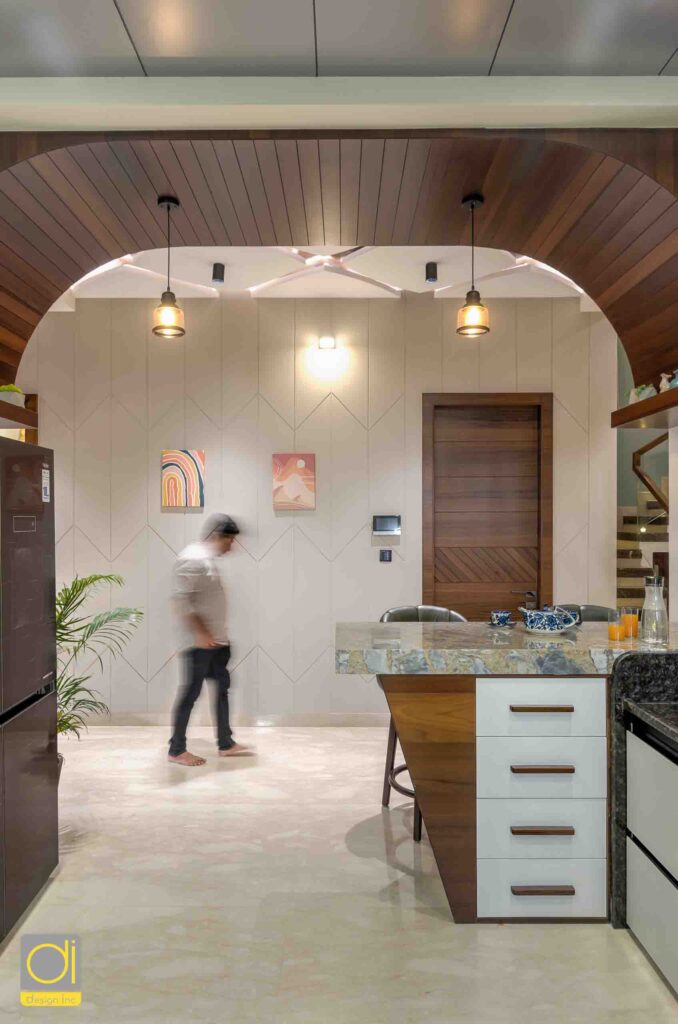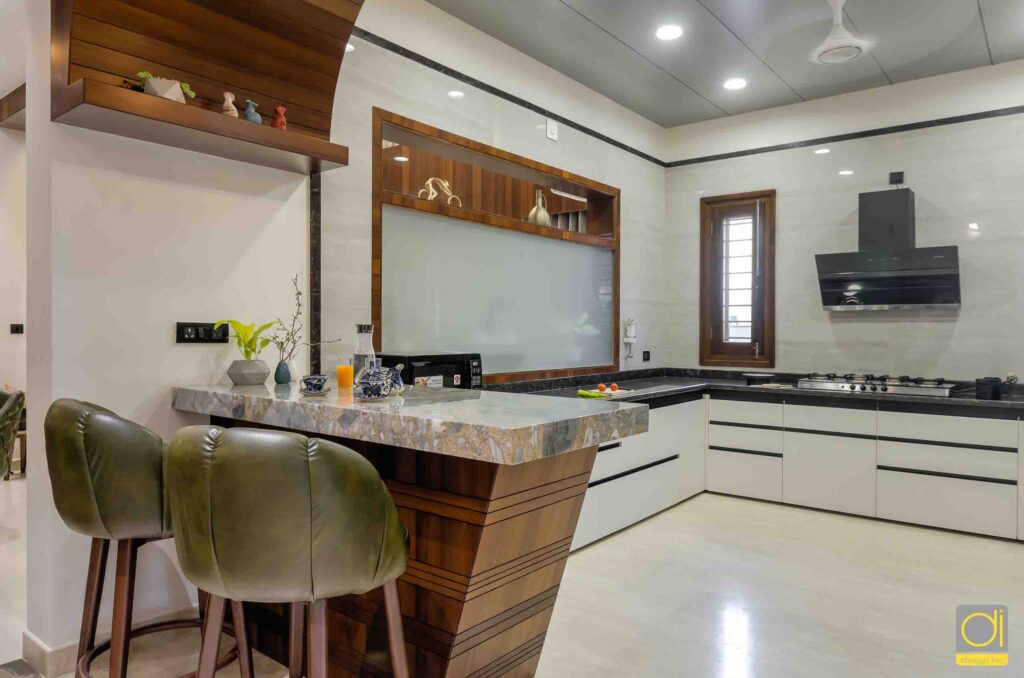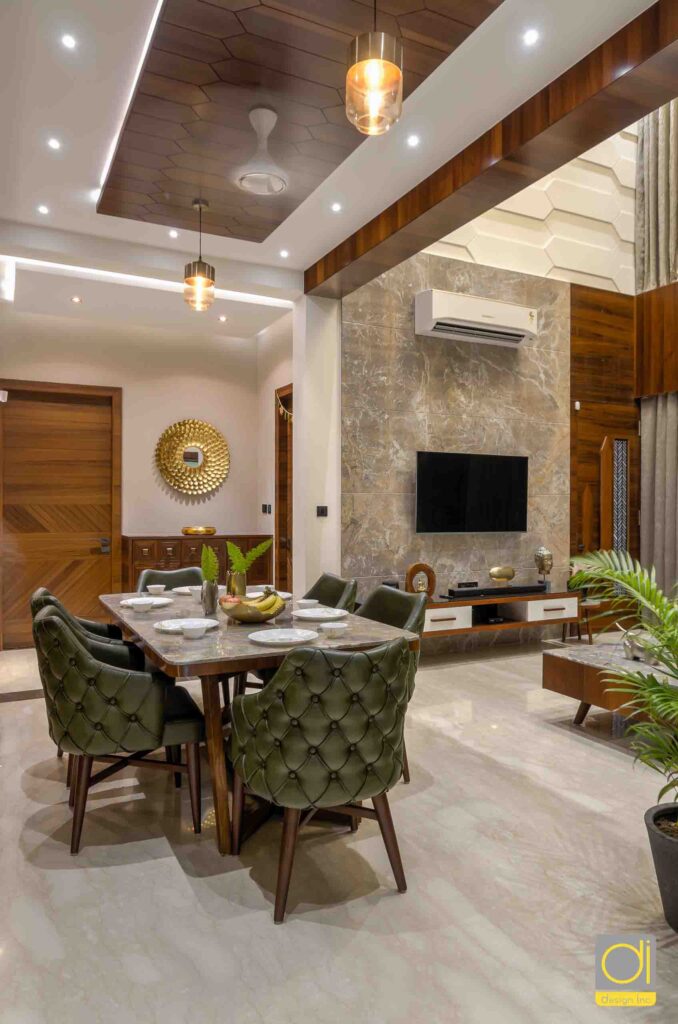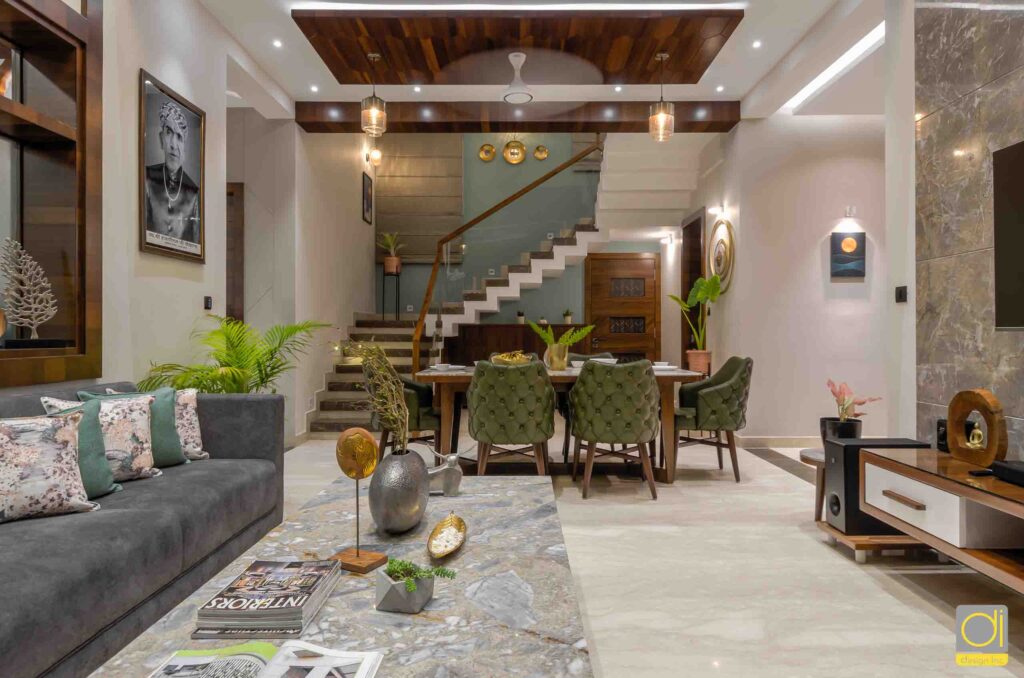 Spacial geometry of the residence is arranged clubbing ground and first floor with double height. Terraces on each floor are also connected dynamically with each other and nature, facilitating quality space for leisure and family activities. The structure of the house is framed by concrete cold, cantilevered rcc, cladded with ACP, Stone and HPL wood.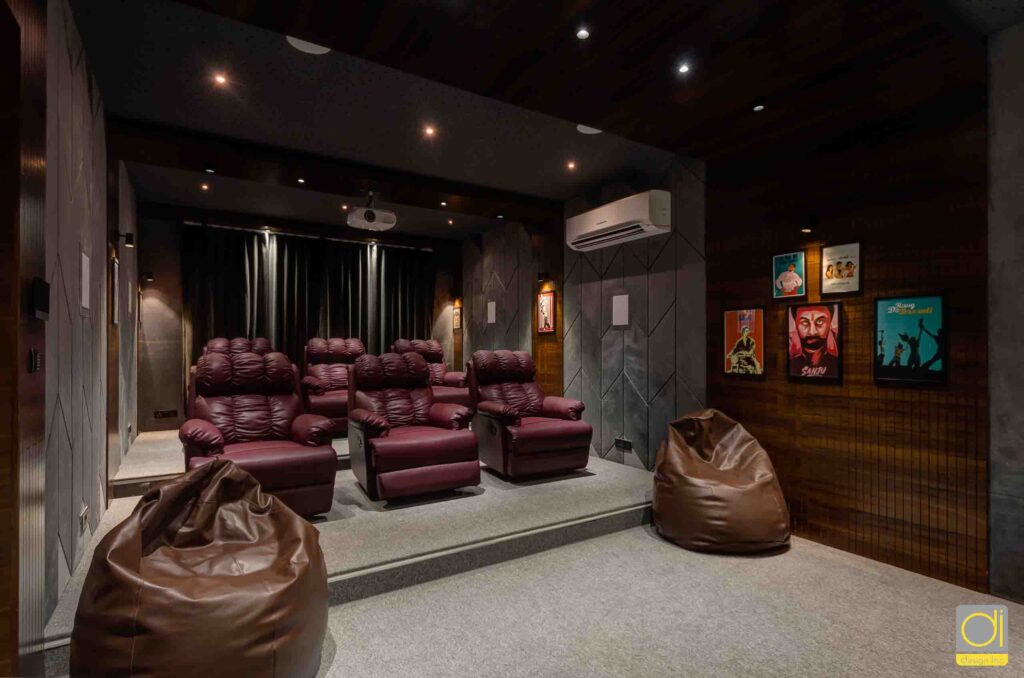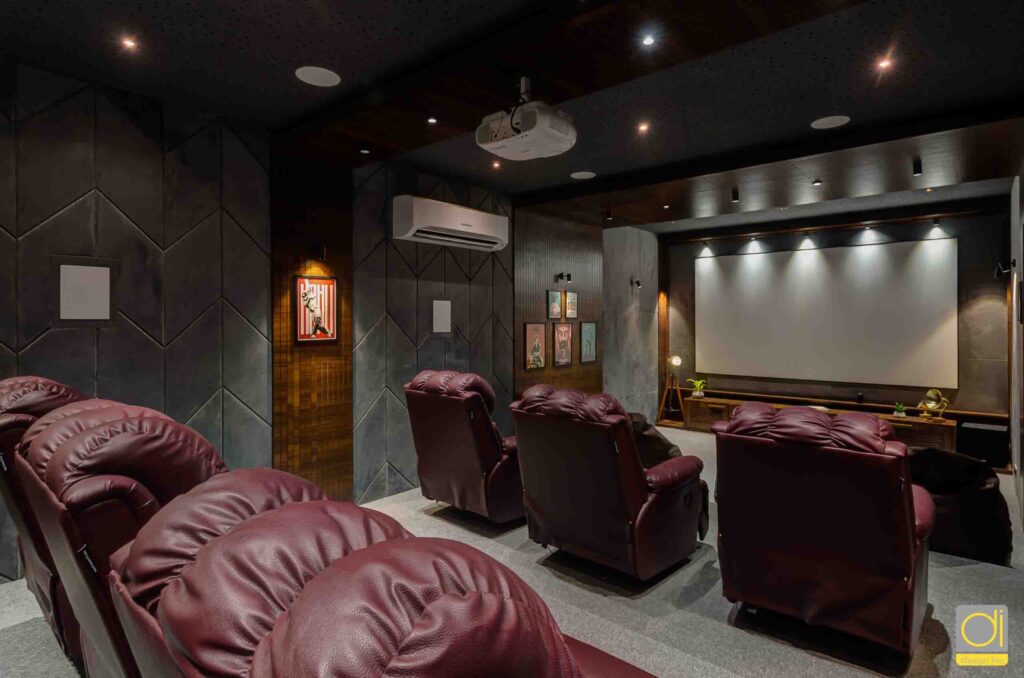 Interiors of the residence are kept ravishing yet calm. Flooring of the residence is of light palette, made of white and Italian marble, contrasted by veneered wooden furniture and furnishing. Pop has been used intricately in ceiling and walls creating 3d murals. Floating back lit ceiling in entrance lobby adds to the sophisticated taste of the clients, curved wooden ceiling separating kitchen from dining space makes a pragmatic appearance in the 400 sq ft area of semi formal space.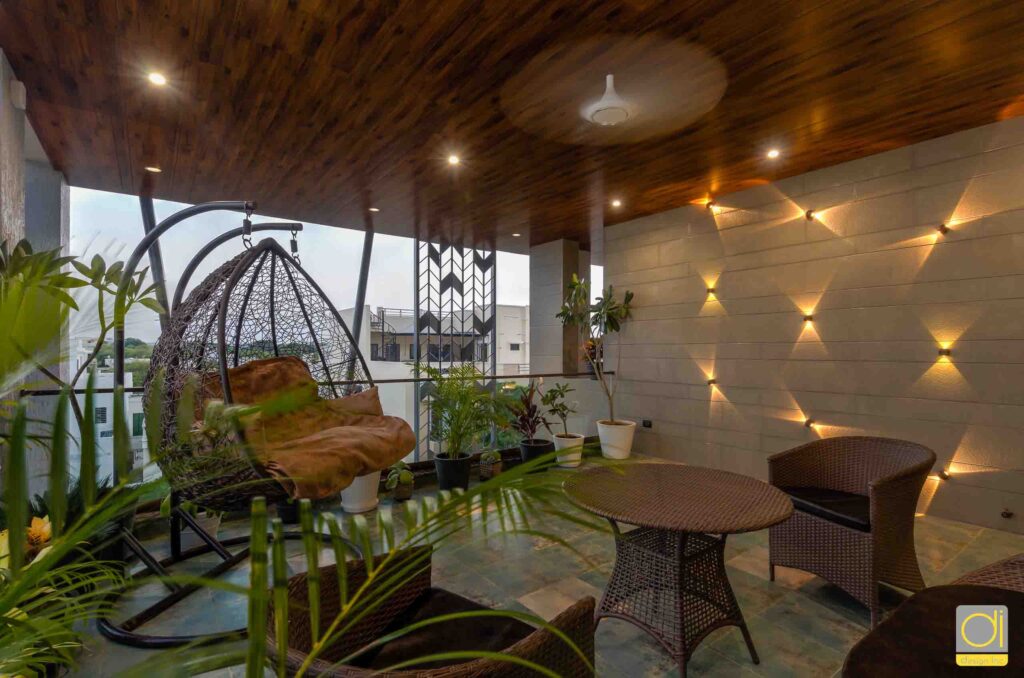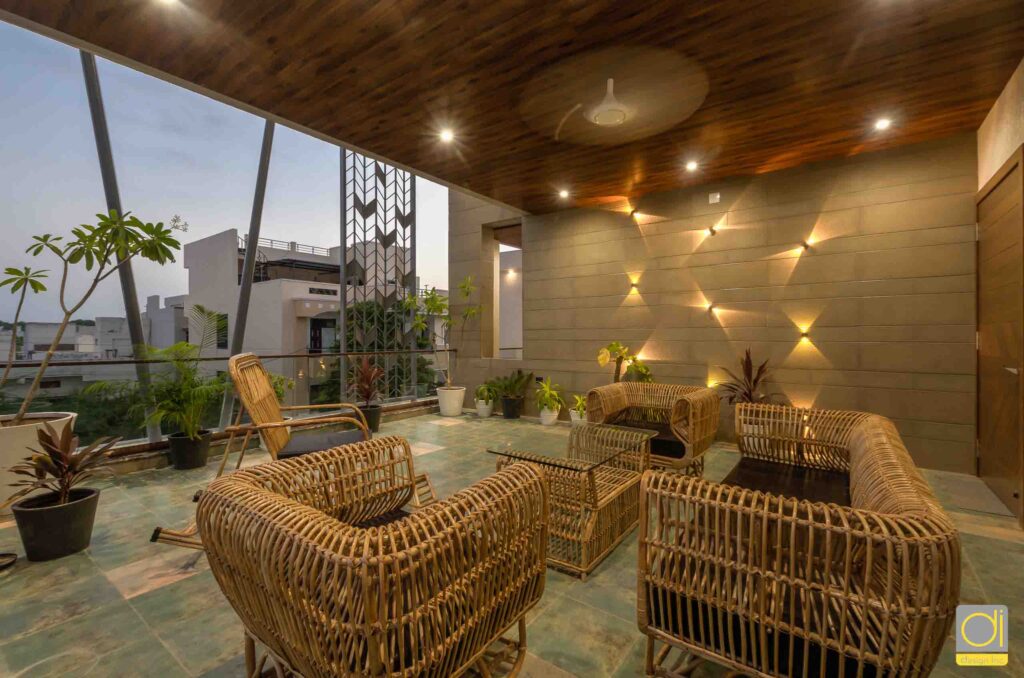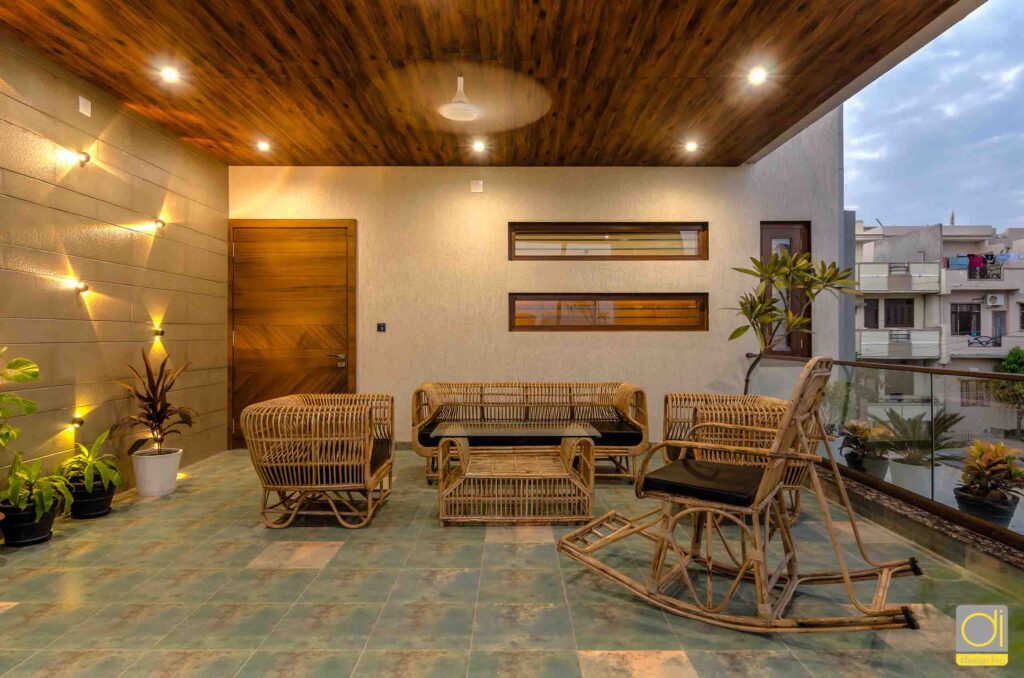 Clean Linea in fixed furniture and furnishing contrasted by soft, curvy fabric makes the house, holding delicate balance of simplicity and electricity. Neutral color palette in floors, walls, furnishing, contrasted with wooden framework, gives the house an exotic appeal.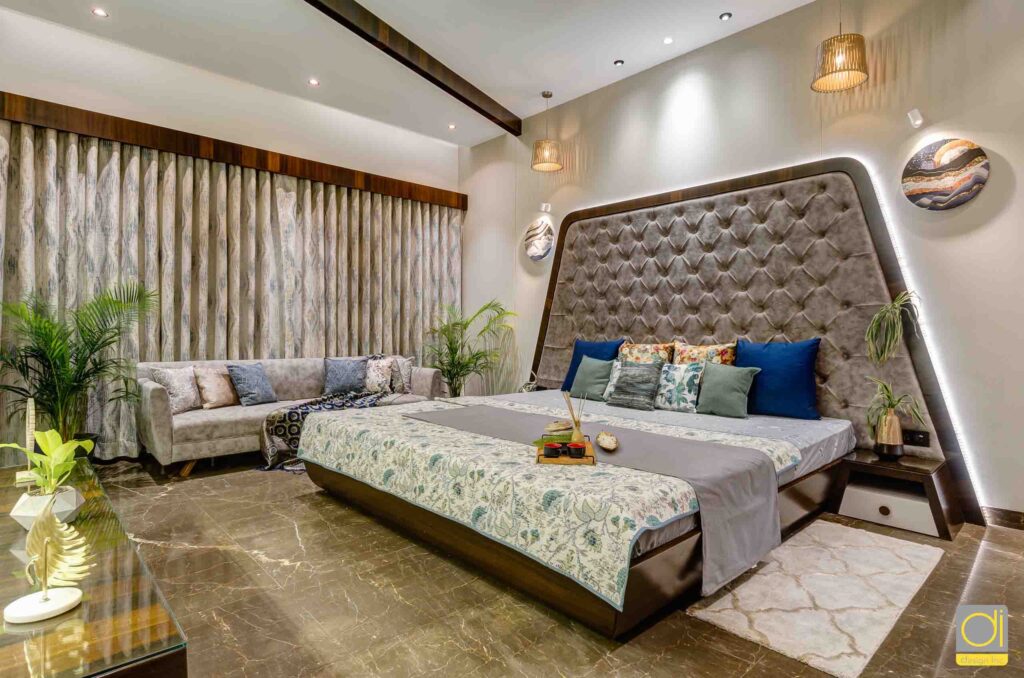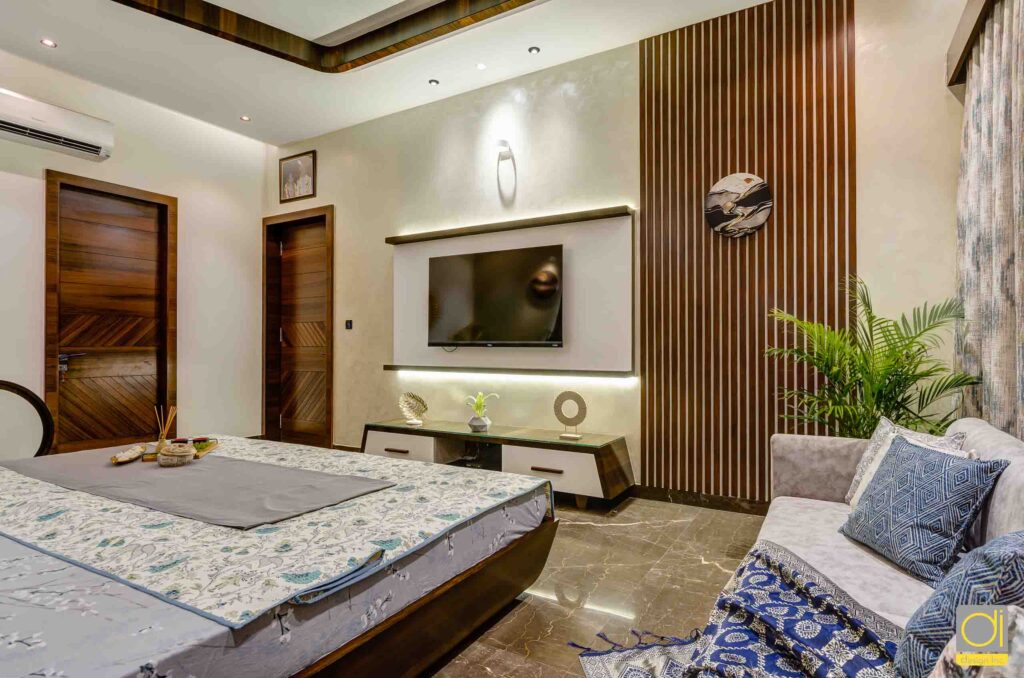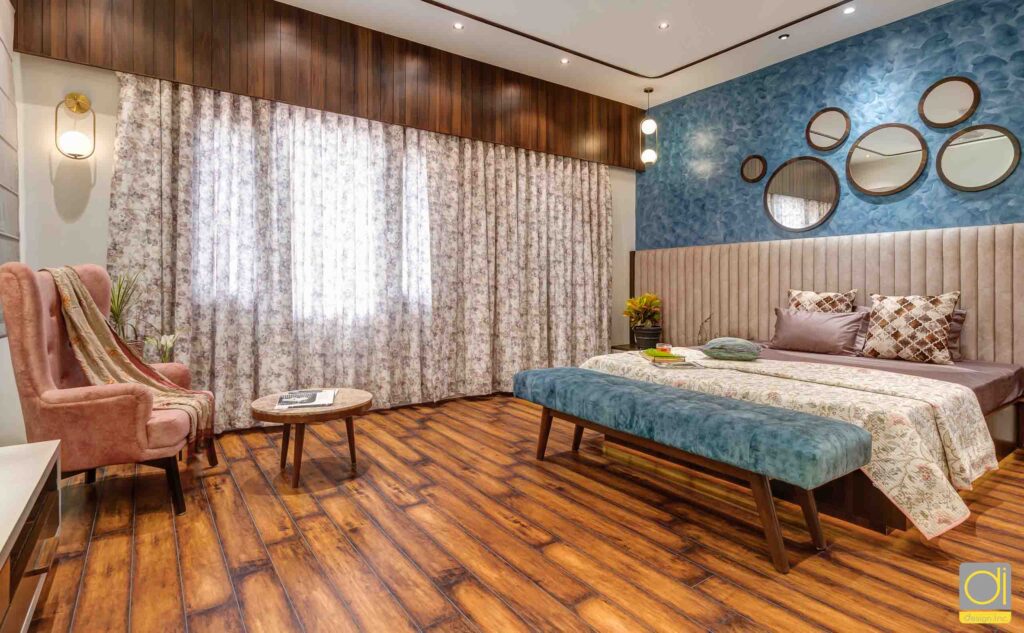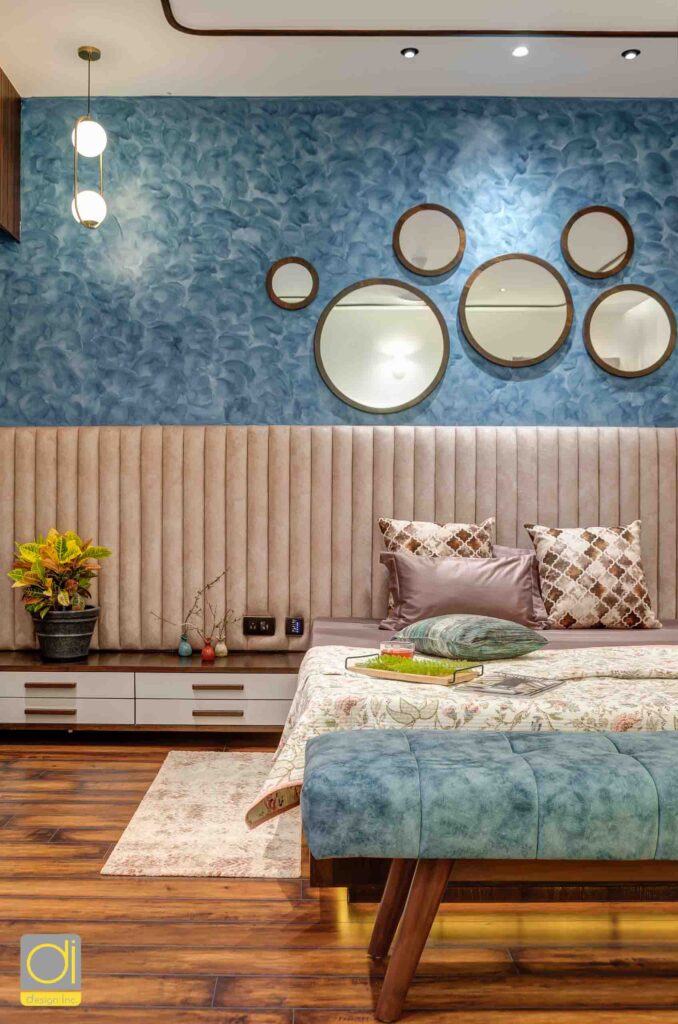 Bedrooms are opulent with filleted edges and soft fabric marks the elegance of habitable space, vented with tart terraces and urbane furniture, walls flushed with patterned wall lights; embark newness in all the spheres of quality of space.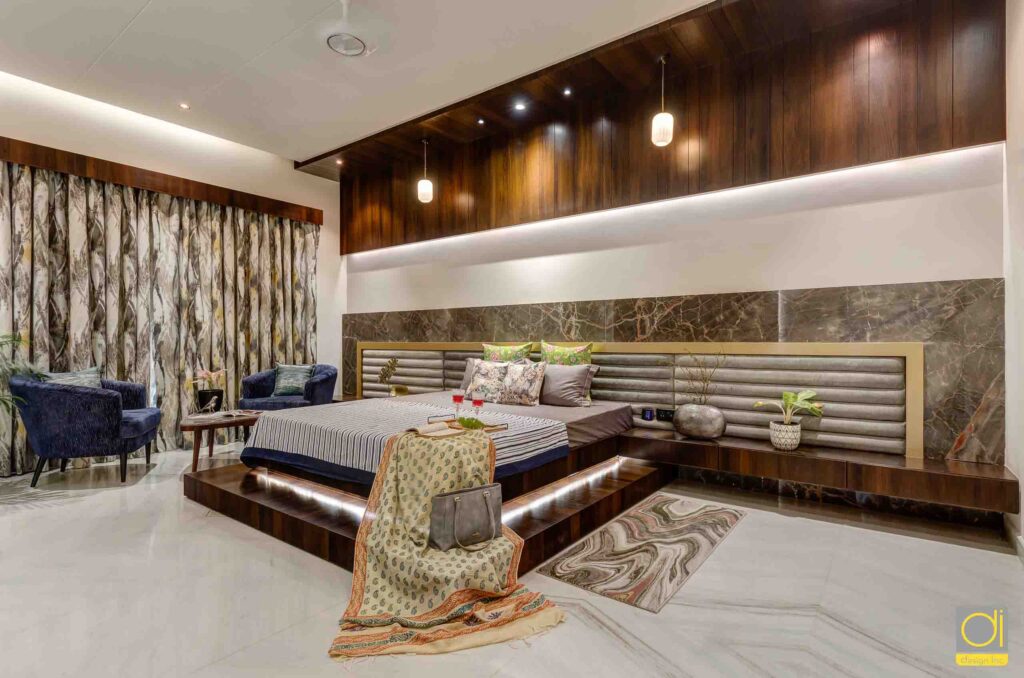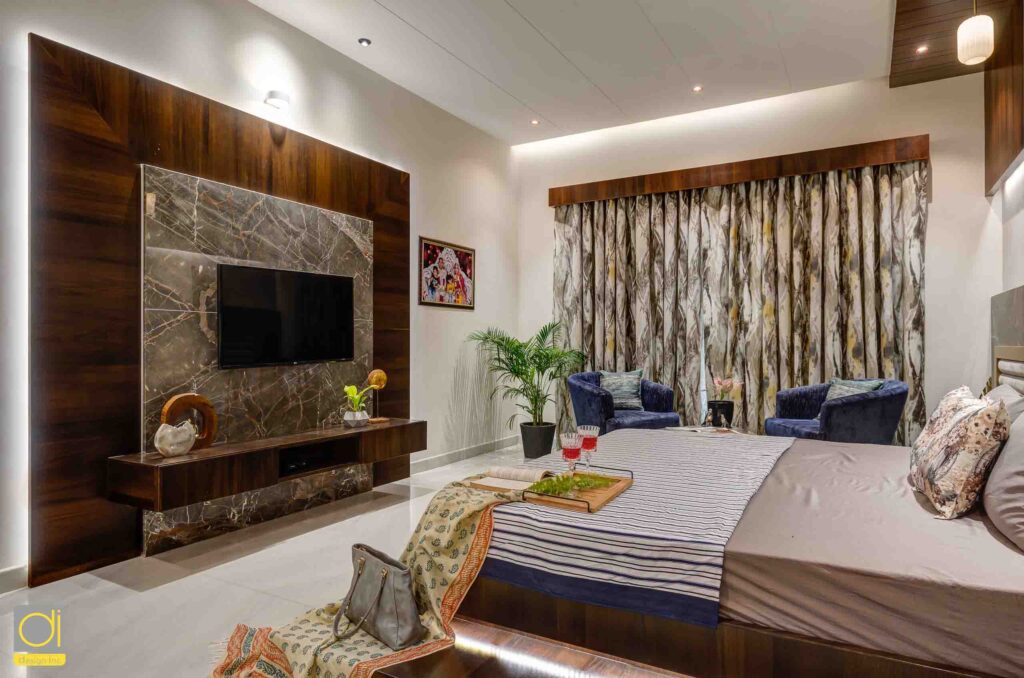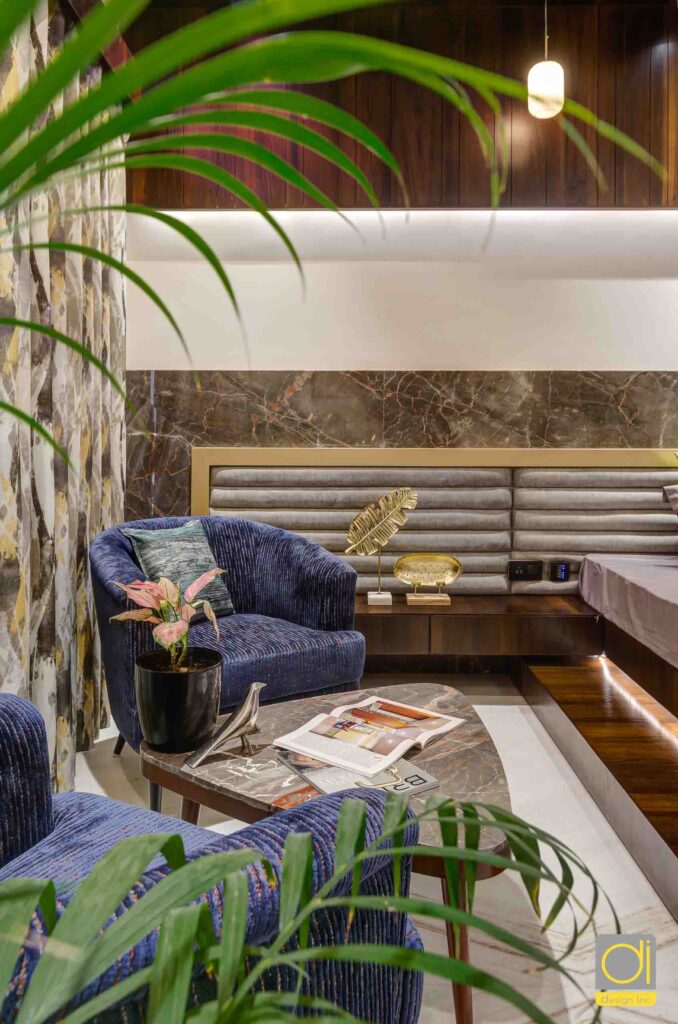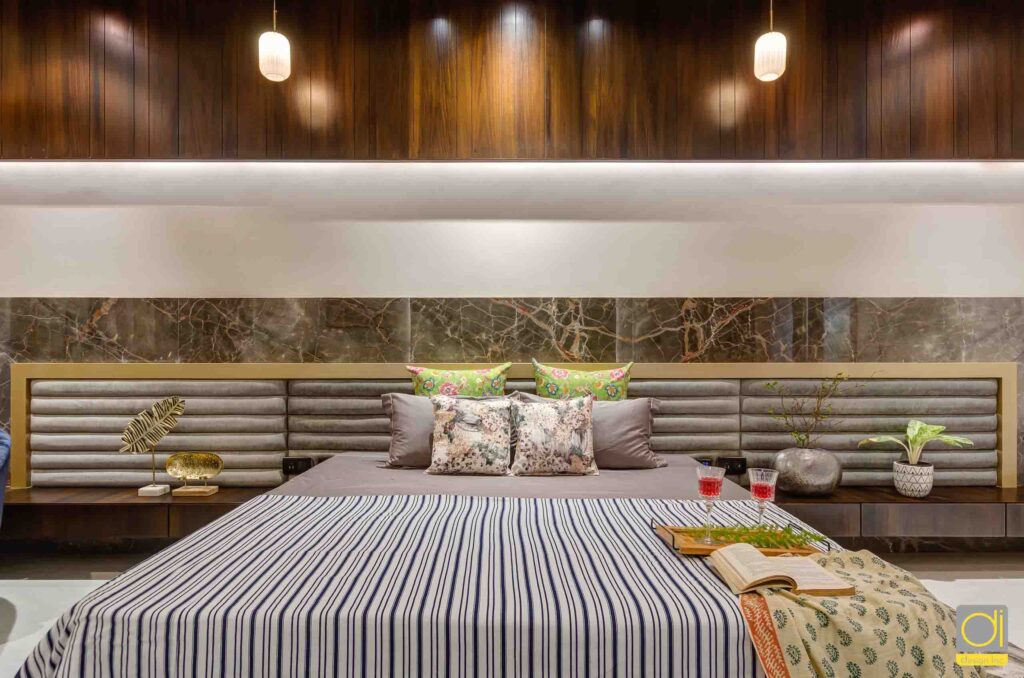 FACT FILE :
Designed by : Design Inc.
Project Type : Residential
Project Name : P.K.House
Location : Rajsamand
Year Built : 2021
Duration of project : 2 years
Plot Area : 3600 Sq.ft
Built Up : 6441 Sq.ft
Project Cost Appx : 2.1 crore
Principal Architect : Ar Sandeep Jain & Ar Anup Murdia
Team Design Credits : Akshi Jain & Ishwar Lohar
Photograph Courtesy: Prateek Chandresha
Color Palette for each area: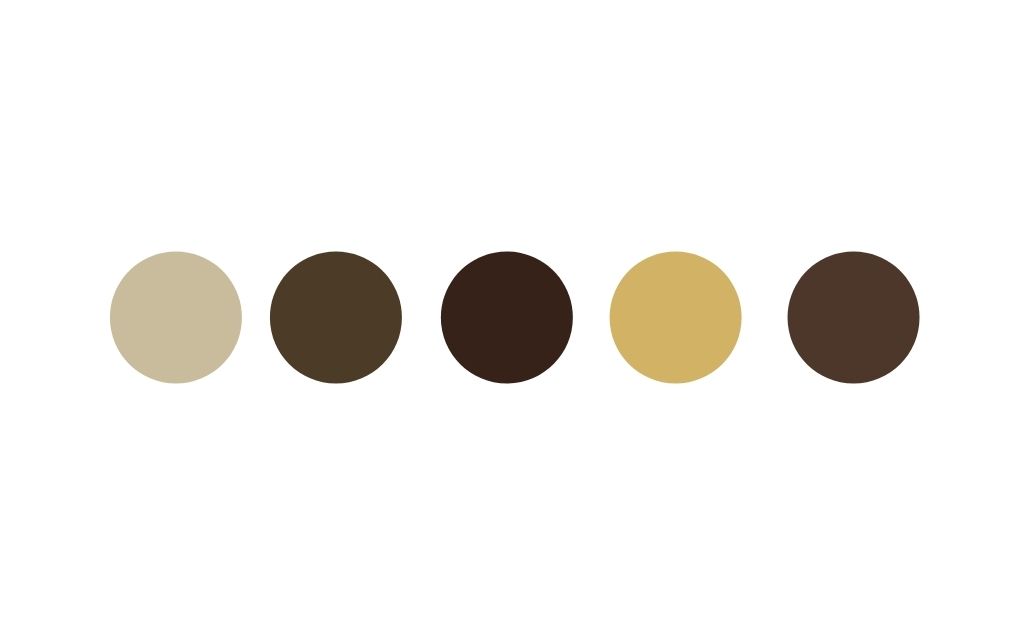 Products And Material : Marble : Dhanuka Marbles | Stone : Stone Ideas | Wood & Veneers : Laxmi Timbers | Automation : Krim Engineering | Lighting : Amarpali | Paint & Hardware's : Honesty Paints & Hardware | Kitchen Consultant : Arihant Lifestyle | Wall covering Cladding : Italian | Construction Materials  : Brick Masonry & RCC | Lighting : Hybec Lighting | Doors and Partitions : Wooden Doors & Windows | Sanitary ware : Kohler & Artize | Facade Systems : Stone & Texture | Windows : Wood | Furniture : Ply & Veneer | Flooring : Italian | Kitchen : Grass | Paint : Asian Paints | Artefacts : Sanskriti Arts | Hardware : Hafele , Hettich & Grass

Consultants for the Project :

Civil, Interior Designers, Landscape Architects, MEP and HVAC Consultants, Structure Engineers and Interior Styling : Design Inc | Lighting Designers : Amrapali | Acoustics Consultants : Krim Engineering | Contractors : Mr.Jagdish Suthar | Project Managers : Mr.Laxman | Quantity Surveyors : Mr.Moha
Basic Insights of your firm and the project
1. Please share with us challenges faced by you during the process of design ideation till execution of the project. We are sure there might be many and you would have overcome it successfully.
This project was conceived in May 2019, so actually the main challenge which was to be faced was Covid 19 and its impacts.  In a couple of months, after finalizing plans with the client, it's execution became the concern for us.  Certainly it was a global phenomena, even then dispersed work force, irregular material supply and necessities of following Covid directions became area of concern for the purpose.
In order to resolve the issue, what we did was efficient coordination of all concerned agencies, by employing then one after the other rather than simultaneously.
Previously shortlisted craftsmen and masons from adjacent areas were reworked and locally available resources were prioritized.
So actually, previously considered challenge was turned into good opportunity, reducing and significant delay in project completion.
Apart from this, design challenge from client's perspective was open plan, simple yet chic elevation, which was treated as discussed. Our design principle happen to be of open concept in modern style, hence achieved the desired.
2. What is that one design element in the entire space which has your heart?
Bedrooms
3. Design Style which is followed by the project (e.g. minimal, modern, deconstructivism etc)
Contemporary Interior Design Style
Principal Designers :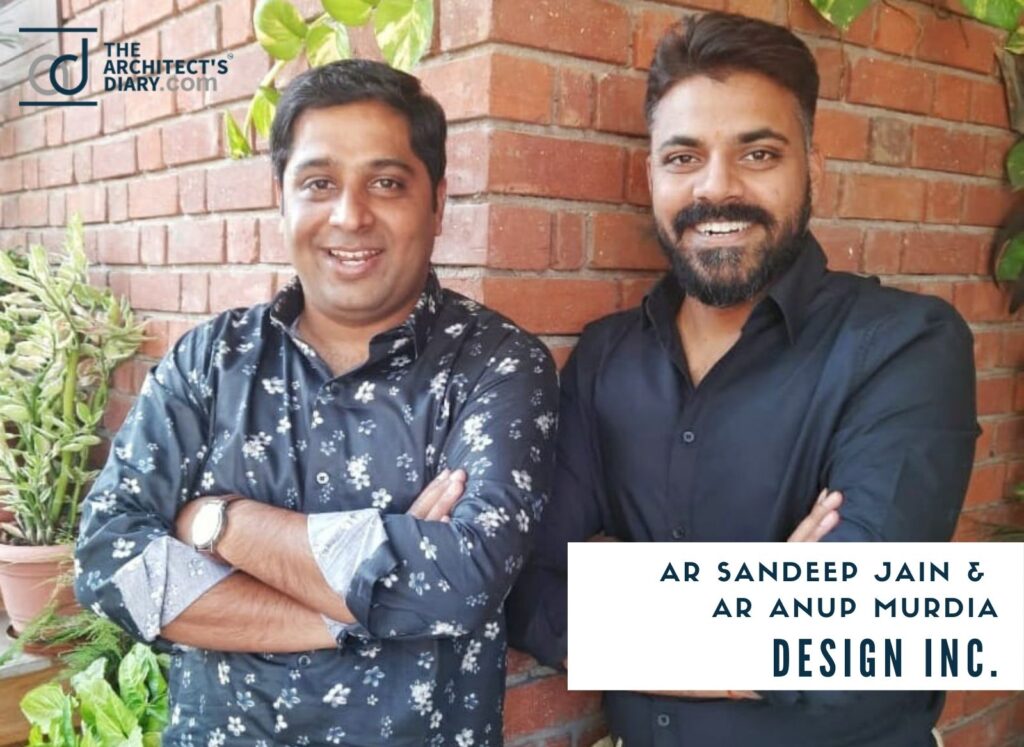 Firm's Website Link: https://www.designincstudio.com/
Firm's Instagram Link: https://www.instagram.com/designincudaipur/
Firm's Facebook Link: http://www.facebook.com/designinc.udaipur/
Email Id : [email protected]