A 'Mahal' in The Sky | AV 4th Dimension
The Project:
AV Fourth Dimension sees design as a constantly-evolving process that should pay keen attention to the need of the end-user. This project was bagged through positive word of mouth. It was a self-developed, family-owned property, spanning two levels.AV Fourth Dimension was associated with the project from the time the slabs were being cast.The project had a clear brief: to design a luxurious, contemporary space which would have unique elements, a 'Mahal' in the sky with use of rich materials and having a touch of the rich Indian culture contemporized to suit modern living.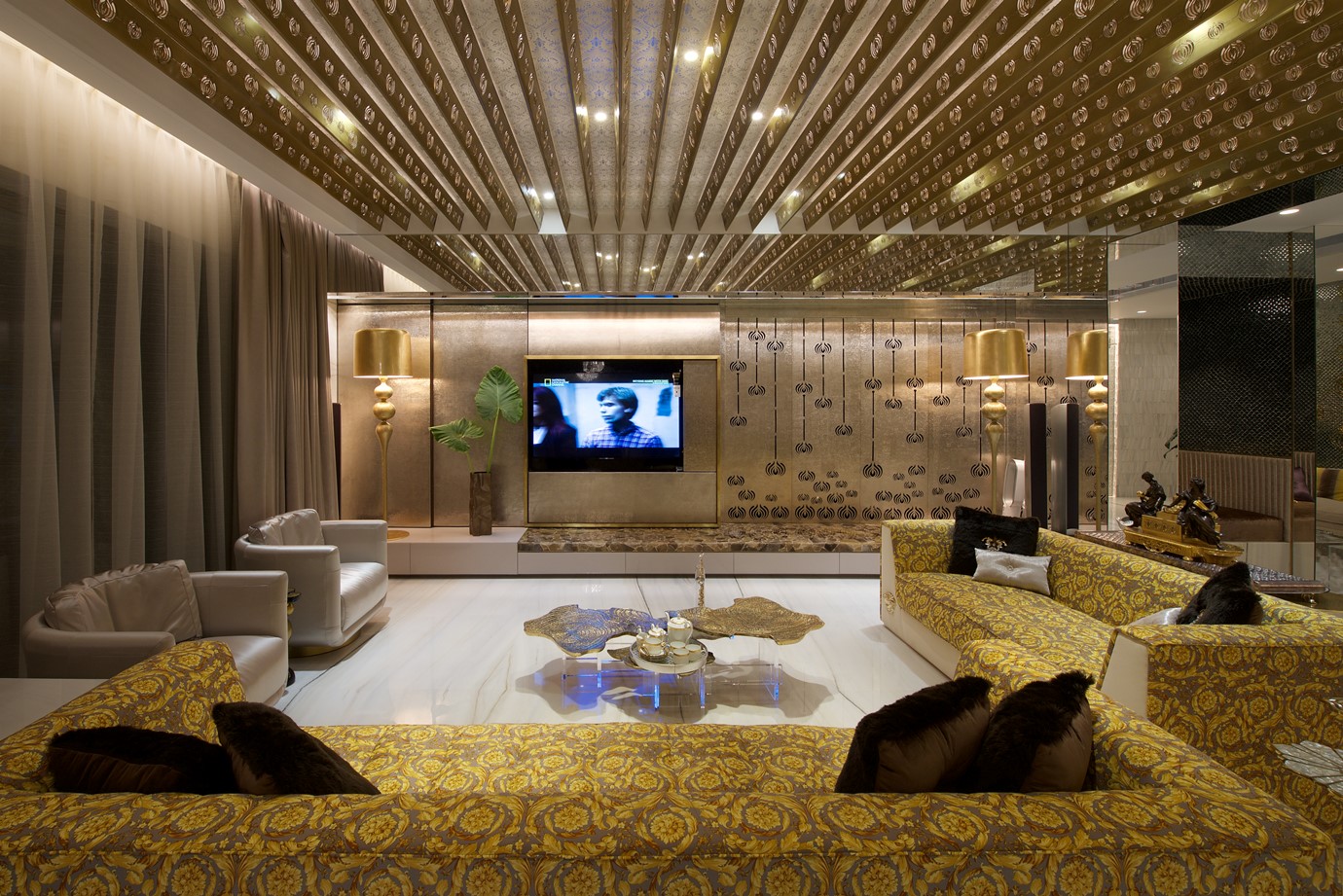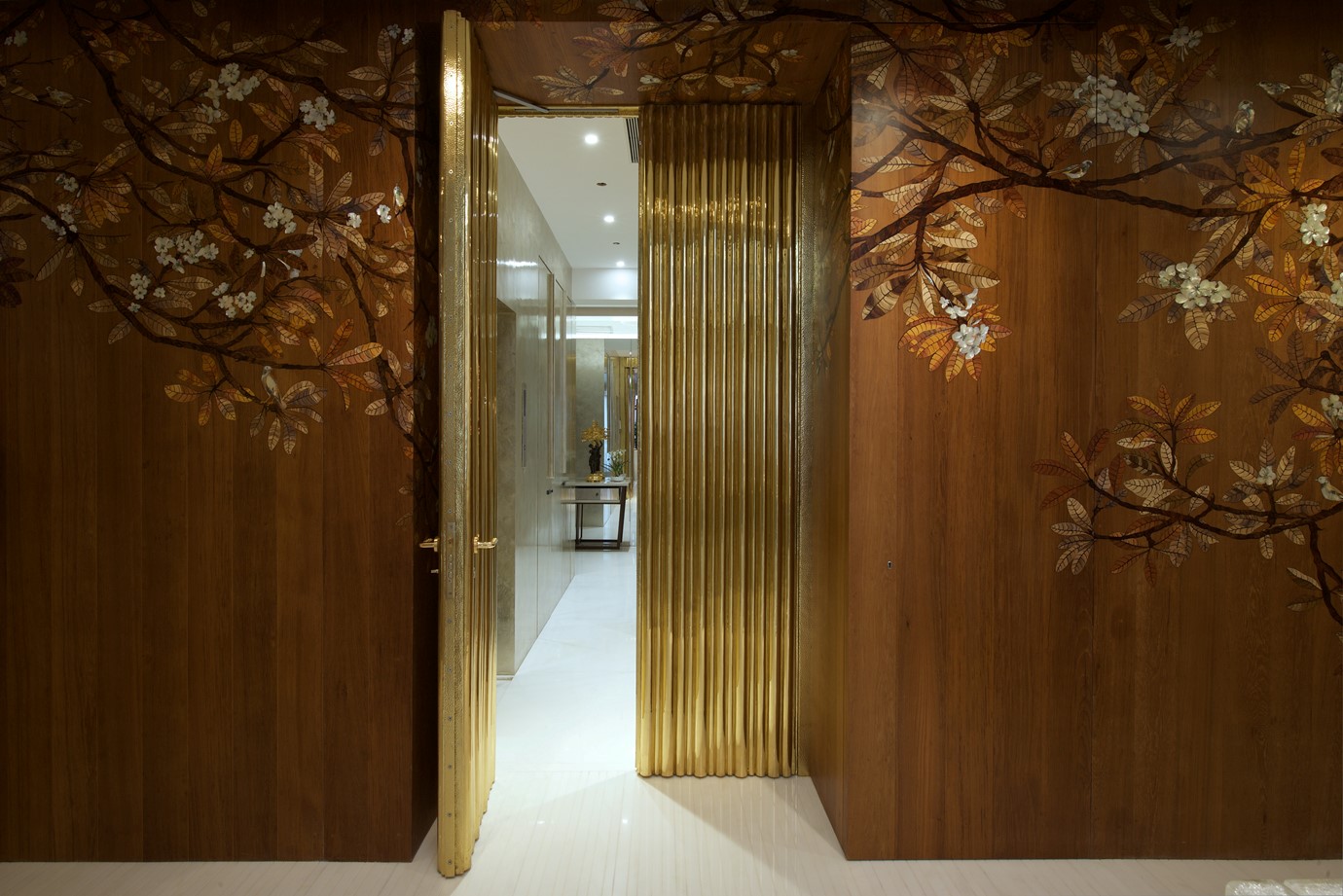 A freestanding panelled entrance door in silver foil and champagne dust renders a majestic welcome while the passage designed with a glass curtain lends elegance to the entry. Handcast brass jaalis allow ventilation into the otherwise covered lobby.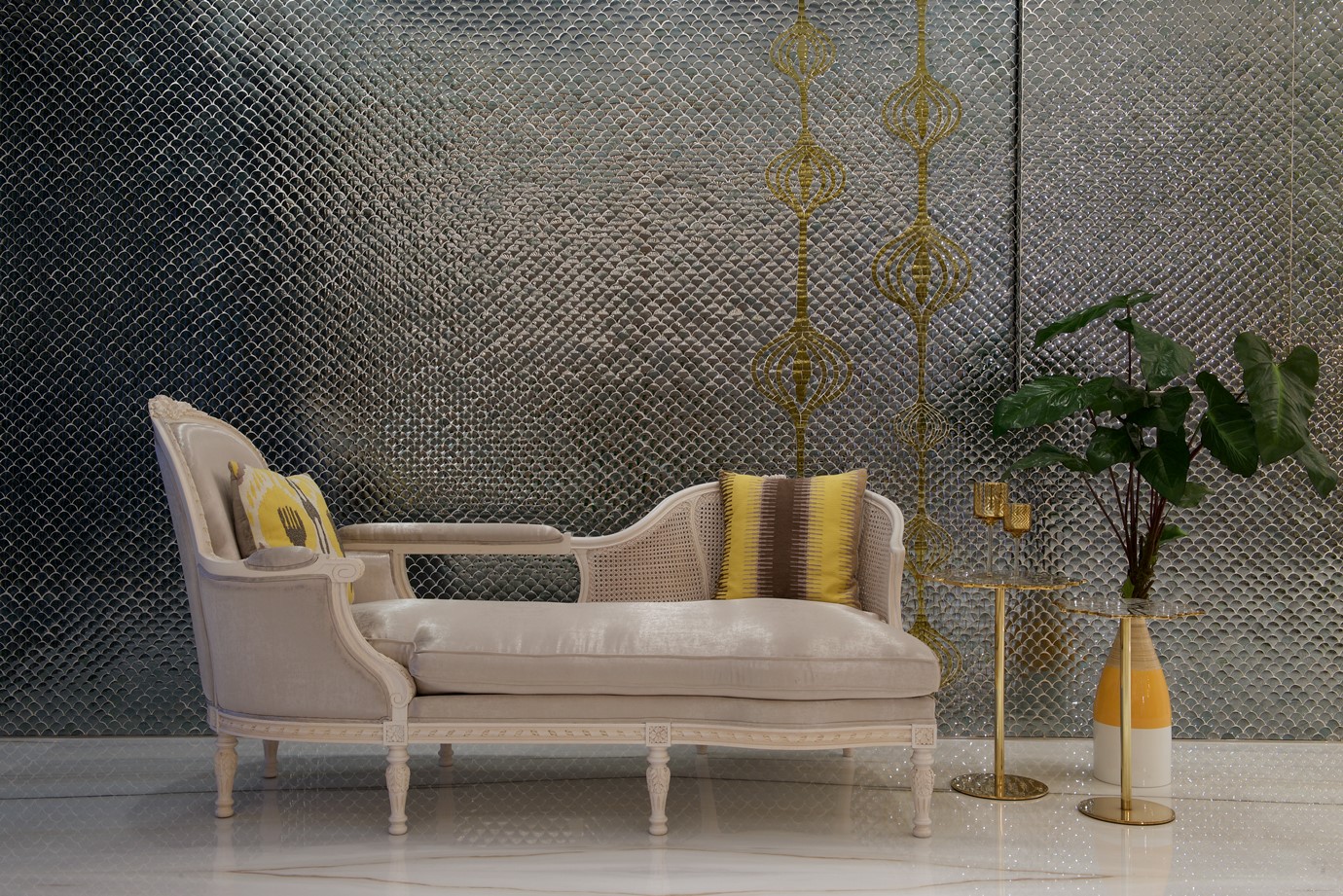 Detailed Design Note:
The programme was evolved after studying the lifestyles and habits of the family in detail. The architect took advantage of being involved from the inception of the project by paying special attention to maximizing the usable area. Personal spaces were carved for six adults and two kids, each one comprising a bedroom, dresser and bathroom. A multi-purpose room, pooja room, living, dining, kitchen, powder room formed the public zone. Staff quarters for six, a utility area with washer, dryer, steam press and ironing facility on both floors, sections allotted for handwashing and line-drying laundry took care of the back-of-the-house activities. Vestibules were created on both floors. A terrace was converted to a lounge with the help of retracting awning that enclosed the space, yet gave it ample openness. The spatial layout and detailing were planned to align the flow of materials with that of spaces, to construct a carefully researched narrative that wove Indian craft seamlessly into the interiors.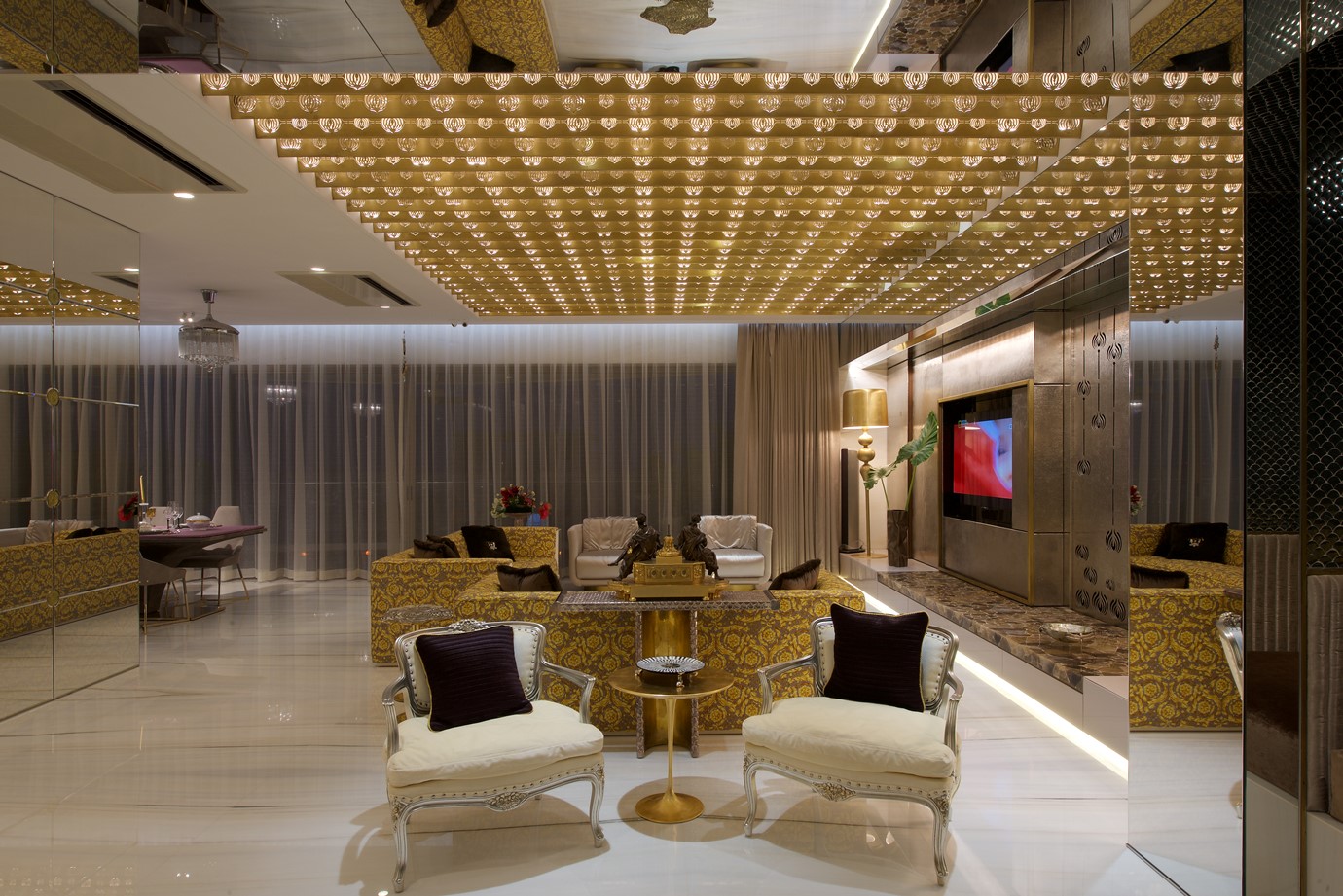 The pooja room finished in quartz inlay in multi-layered lotus motif troughs, a CNC-cut MDF screen with a blown-glass suspension lamp from Klove, along with handcut bevelled mirror mosaic on the face of cabinets and drawers.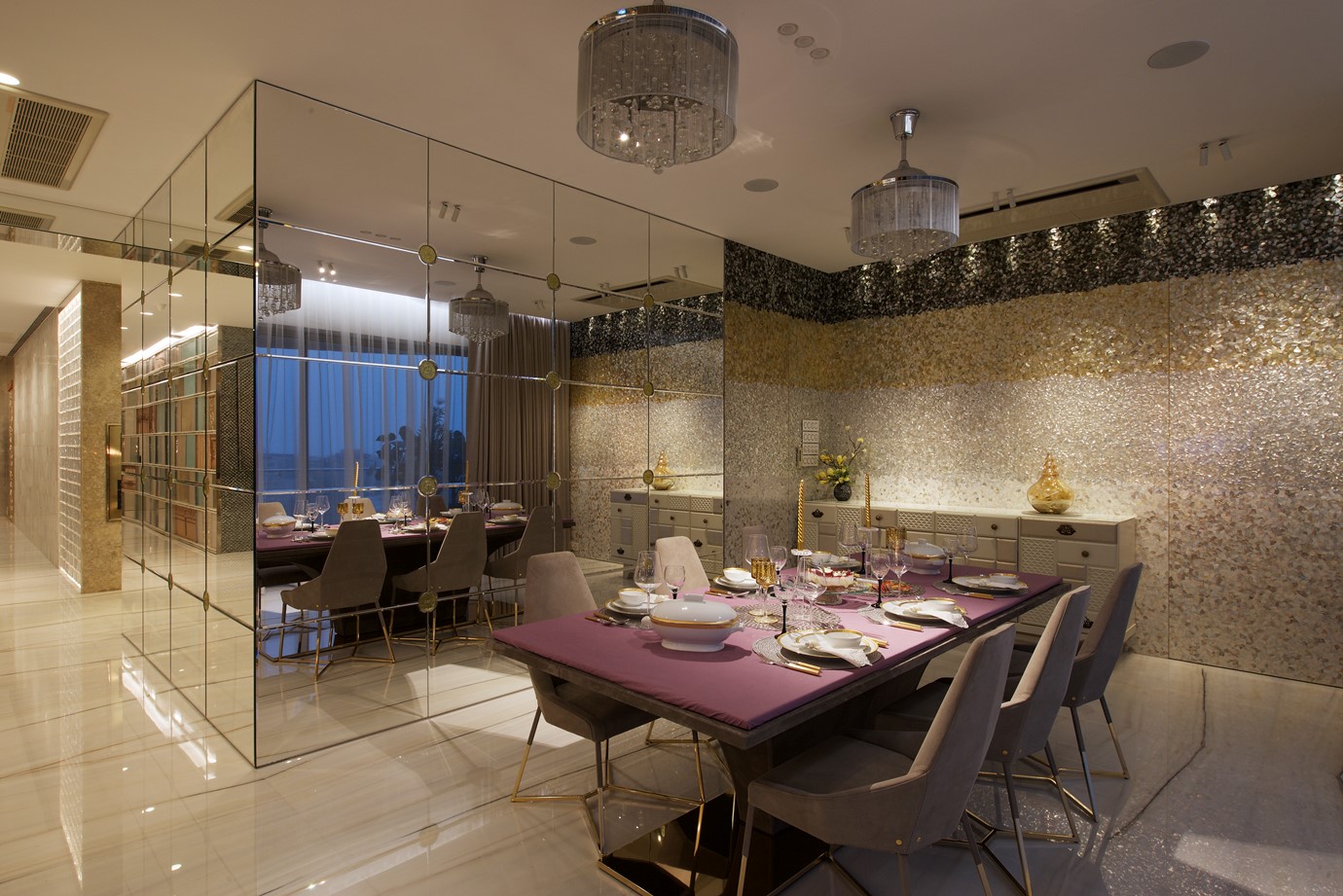 The multi-purpose room has a partition featuring horizontal metalbands, clad in onyx and inlaid with mother of pearl. The panels between the bands are finished in tomato-textured glass and mirror with polycoated and handpaintedsepia-toned frescos.A custom-made herringbone pattern floor and solid wood fluted wall panelling withIkat fabric add a dashvibrancy.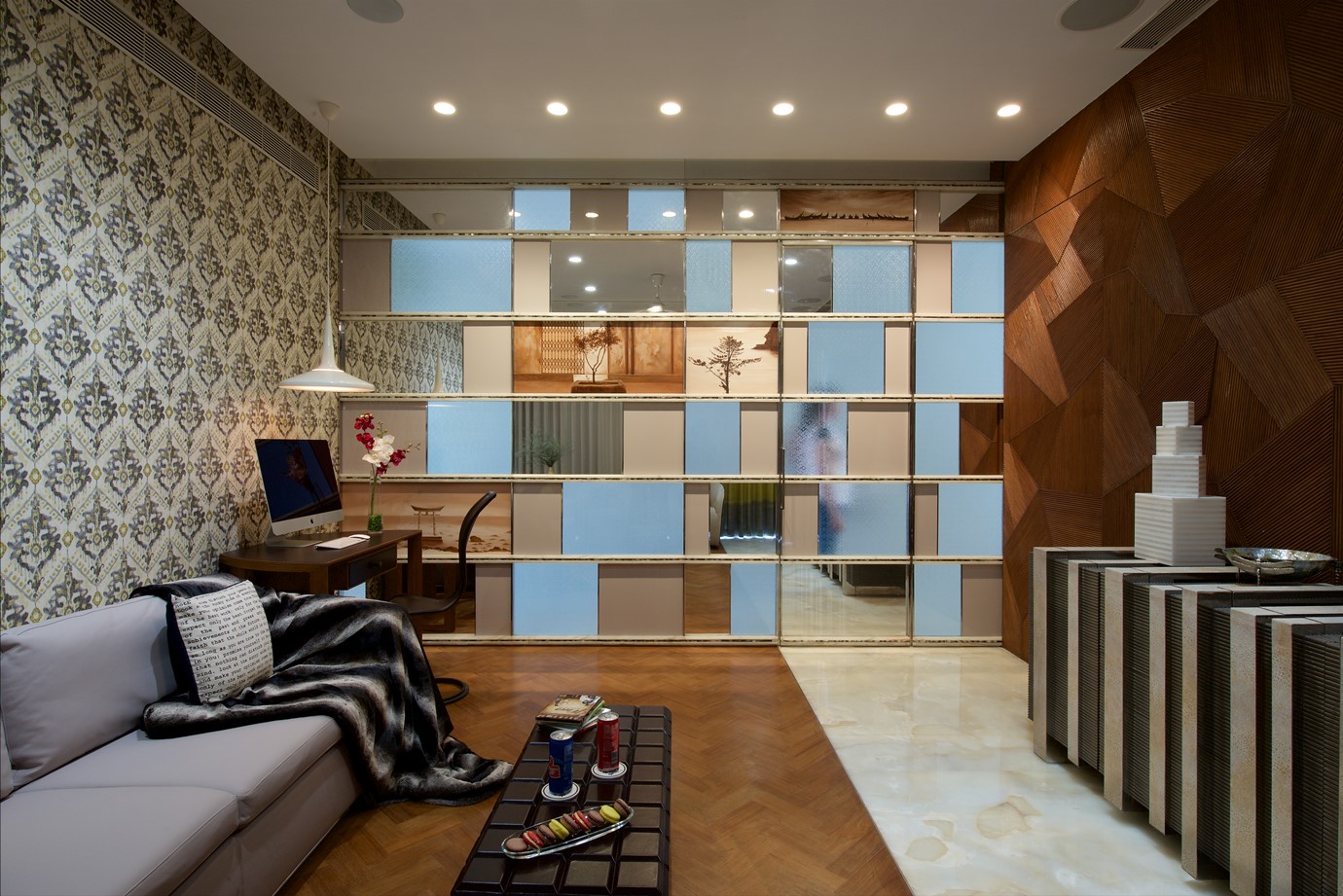 Execution note:
Following the brief was given by the client to design the sprawling 5,500-square-foot residential area, an innovative contemporary creation has arrived upon which has a reflection of strong Indian element amidst world-class contemporary design. The flow of spaces was planned to allow each space and its occupant to function without interfering with another user.Each space was given distinctively crafted surfaces that bestow its individual character.Room after room brings out outstanding architectural design and intricate detail that is opulent and functional.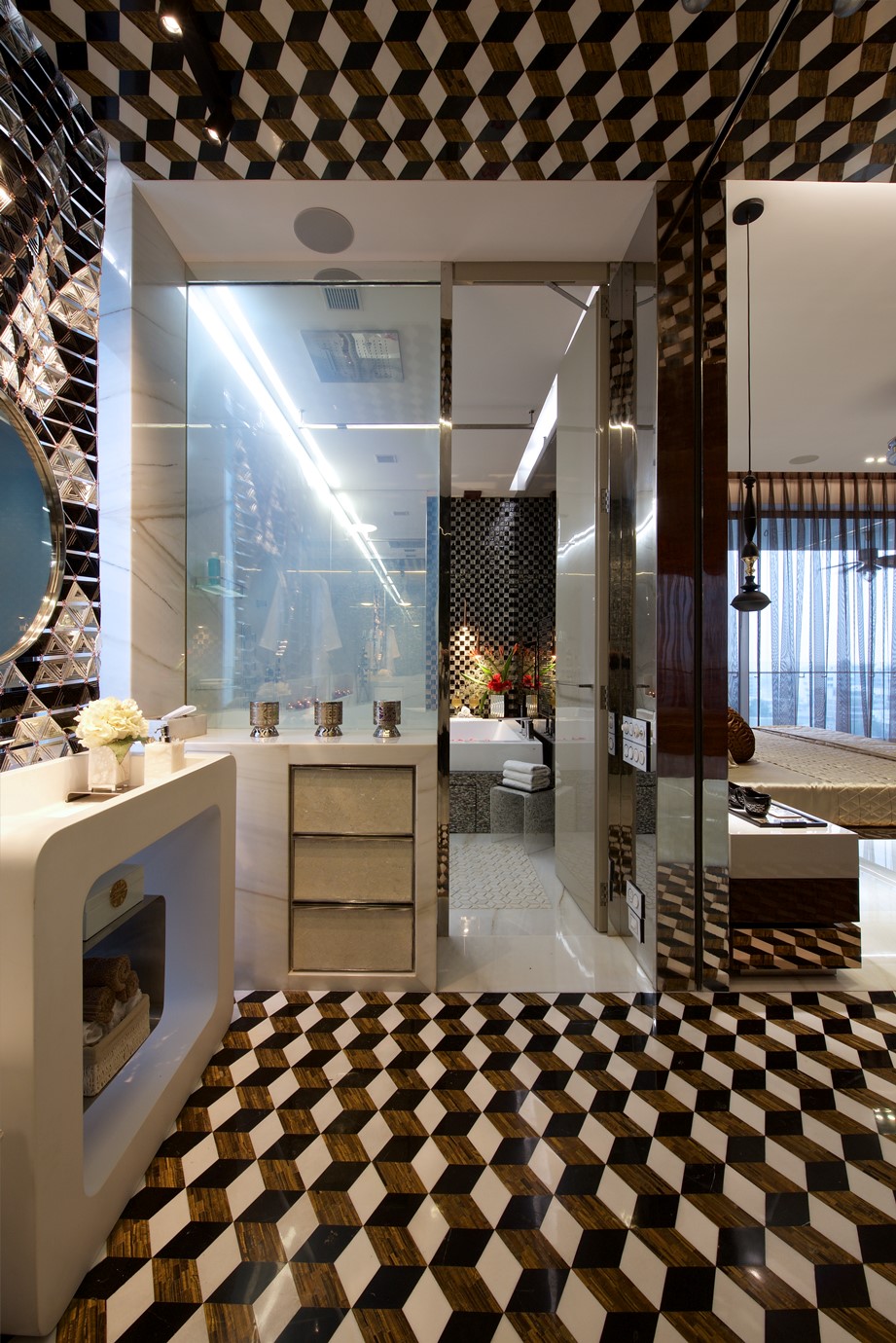 The senior couple's suitehas a stencilled wall (with the same pattern echoed in a metal screen), marquetry, mirror and back painted glass. The kids' suite has playful charm with a perky headboard, floor inlaid with abalone shell in a geometric pattern, fibre optic light ceiling with crystal ends, and an extended shower facilitating water play. Master Suite 1 is posh and elegant, with copper ceiling in various finishes like mirror polish, brush and antique. Textured and fabric panelling replicated in the same design as the bed headboard, binds the design together. Master Suite 2 is regal and exclusive with inlay of marble and semiprecious stone on the floor and ceiling anda floating cantilevered bed in rose-gold finish. Handcut mirror in a pattern on the large wardrobe shutterscomplete the grandeur. A 45-foot-long wall (between the kids' room and that of their parents) displaying stunning Mysore marquetry rendered as a frangipani grove is a conversation-stopper.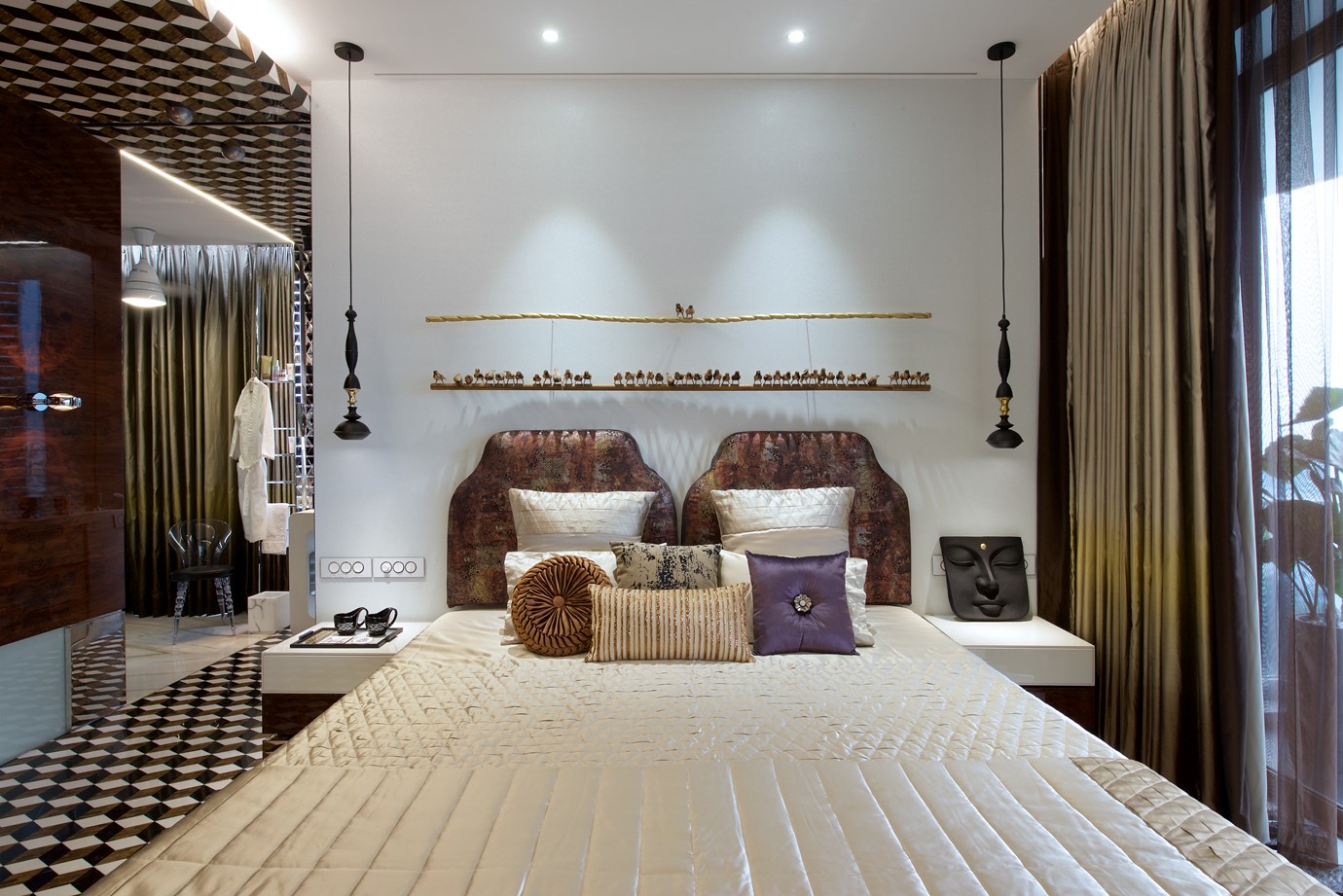 Innovative surface textures and a lavish material play in wise measures add a vital dimension to this design story. The home is a unique mélange of indigenous craft reinterpreted as contemporary elements. The design narrativereconciles seemingly antipodal concepts — contemporary and classic, old and new, luxury and pragmatism — tocreate a stylishly opulent aesthetic.
Location: Mumbai
Details of the space (area in sq ft): 5,500sft
Concept & Interior Design: Amee Vora
Principal/ Creative Director: Amee Vora
Design firm: AV Fourth Dimension
Structure: Navin Shah
Civil and plumbing: Gandhi and associates
Electrical: Contrato and Sources Unlimited
Mechanical: Arctic Cool, Express Elevators
Audio/Video and acoustics: ZohirRamodia, Boom
Interior contractors: Swati Interiors, KamaluddinChaudhry, Bombay Paints, ViyaHome, Apollo Arts and Crafts, Pink City international, Prakash mirror & Co, KY ParabArts andSuperinlay
Furniture: AV Fourth Dimension, ViyaHome, Sources Unlimited and Abaca
Photograph credits: PHX India | Sebastian Zachariah + Ira Gosalia
Artists: YogeshMakwana, AvniSejpal and AV Fourth Dimension