Rajas Cottage was a special project as the home is in my ancestral town Mangalore and belongs to us. The project is a 90+ year old Mangalore style villa. Age old mud walls creaking, red oxide floor loosing it's stain and texture, discomfort without attached bath areas and wardrobe spaces in bedrooms, inadequate lighting in the entire home, addition of new furniture in the recent past that didn't sit well with the theme of the house and mainly lack of strength in the old structure are few of the reasons we decided to revamp our old space.
A Bungalow Rich In Traditional Design Style Yet Accommodating A Contemporary Lifestyle | Hiraya Design Studio
visit : Hiraya Design Studio
It is a 12 cent plot with the main door facing the North East. The home has a built up of around 4,000/-Sq.ft and there is a bit of landscaping on one stretch of the plot with a mango tree almost at the centre of the plot that has stretched its branches across both sets of car porches. The inspiration for this project stemmed from having a space that would reflect our heritage, restore our memories, a place that could blend the old and the new. A bungalow rich in traditional design style yet accommodating a contemporary lifestyle. We begun with strengthening the walls by introducing steel sections between walls.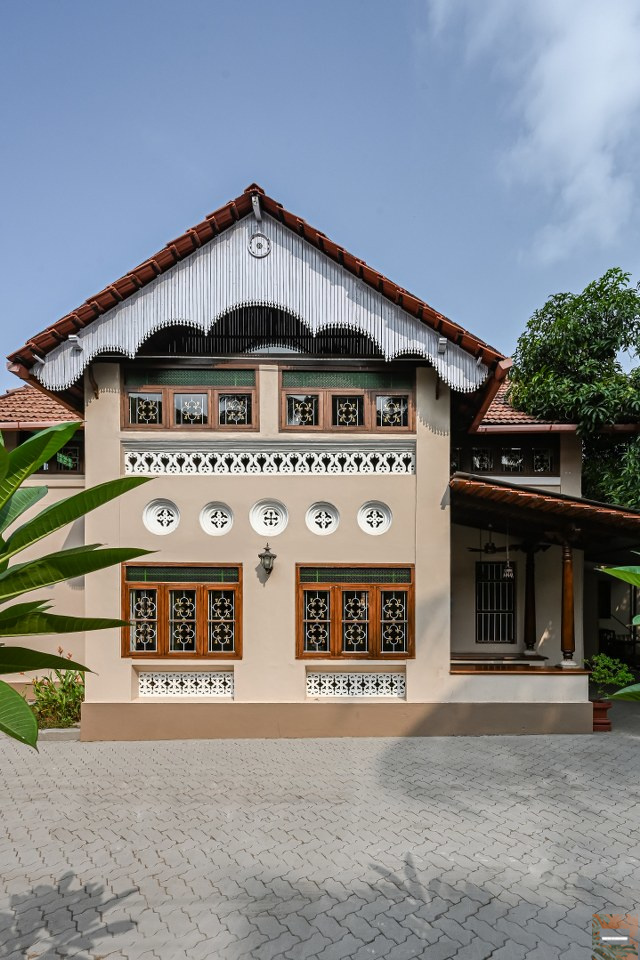 We have retained the over all traditional theme of the home and tied them together by color or accents. Chettinad stone and wood columns, Athangudi tiles and solid wood ceilings etc. add character to the house. As the popularity of this style of design is seeing a dive over time, every element used had to either be sourced from different parts of the country or customized which made the project, time consuming but definitely worth it.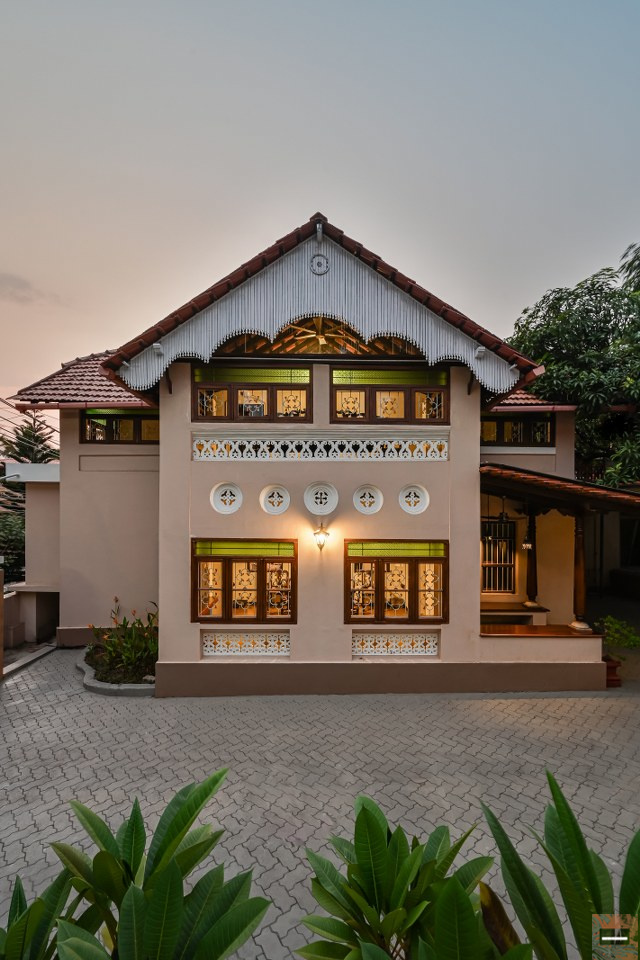 The windows on the facade of the whole structure have been customized to bring in a Chettinad feel to it with a dramatic grill design with a section of green colored flora glass over it, the manufacture of which has been discontinued in this region, which got us to look high and low to source it. Right above it is a row of concrete Molded design. The roofing material is the local Mangalore tiles below which is the arched Wood Design which is an interesting feature on the façade.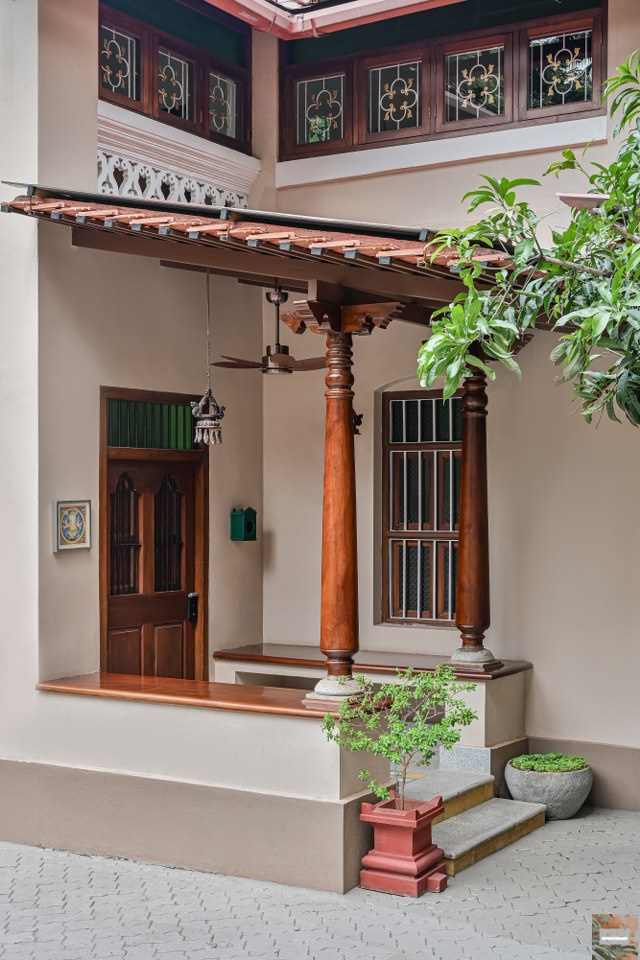 As you enter the gate, a car porch is built, flanked by two intricate stone columns to give a vintage look and impart an aura of piety. The entry of the house is designed with a raised platform called "thinnai" which is referred to a porch overlooking the courtyard in a traditional Chettinad home, to receive visitors. The built-in wooden seating on the entrance verandah adds to its quaint charm as do the Chettinad wooden pillars on both sides of the seating.
The Mangalore style piece of furniture that accommodates 4 , the wall segregating the formal and semi formal living spaces adorned with arched windows and a door has been retained from the earlier design as it speaks volumes of a traditional Mangalore home and we didn't want to part ways with it. Growing up, I've always appreciated the antique switches and wood boards that the switches are mounted on that I used to see in my ancestral home, and though nobody makes them anymore, we managed to find them from a vendor in Mumbai and use them at our place.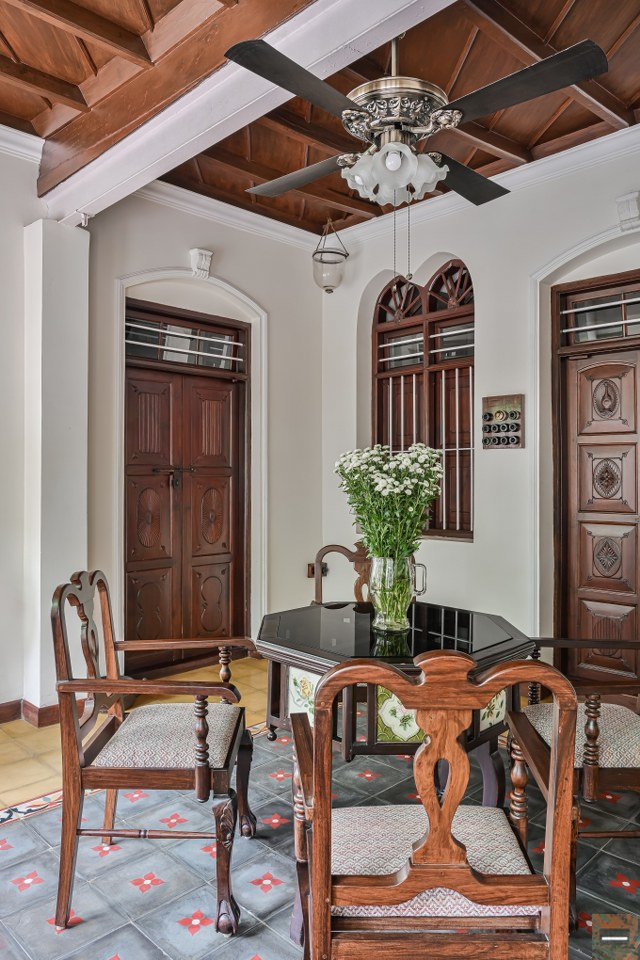 We reupholstered the seating in the semi formal area, introduced a double carpet tile pattern in between the room to accommodate an antique cradle that we repurposed into a center table by using an Italian marble as countertop. The wooden ceiling with rafters is something we have retained in most rooms as they bring in the richness into the space.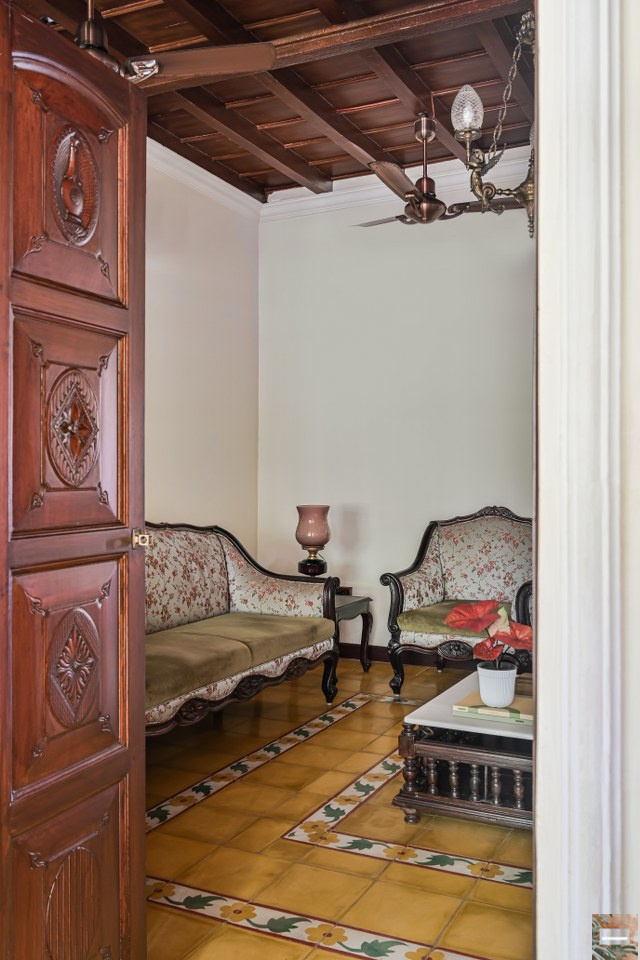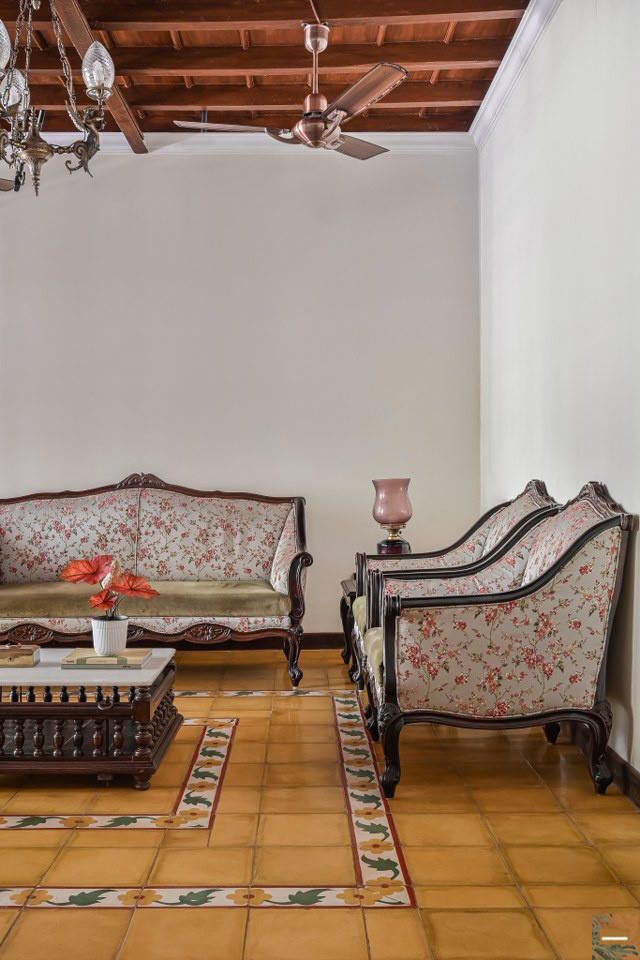 Above the dining room, we have constructed a slab to accommodate wardrobe and bath spaces in both my brother's and my bedroom on the first floor level which earlier didn't have these spaces. The flooring further changes as you move into the dining area.
Customized windows with a carved wooden arch detail over it and a molded arched border around it, antique lights besides it and an antique Chettinad door topped with glass over it that's used as a dining table top are the highlights of this space and one amongst the many antique furniture pieces we picked up from Karaikudi, a town in Tamilnadu. To separate the dining area from the kitchen space, we have used wooden columns over a pedestal to act as an entryway and also brings in the openness in between these 2 spaces.
We have kept the kitchen simple with a modular finish but brought in a veneer detail over the modular gola handles and on the island counter in the form of open units to not loose the essence of the home concept. We as a family are really into food.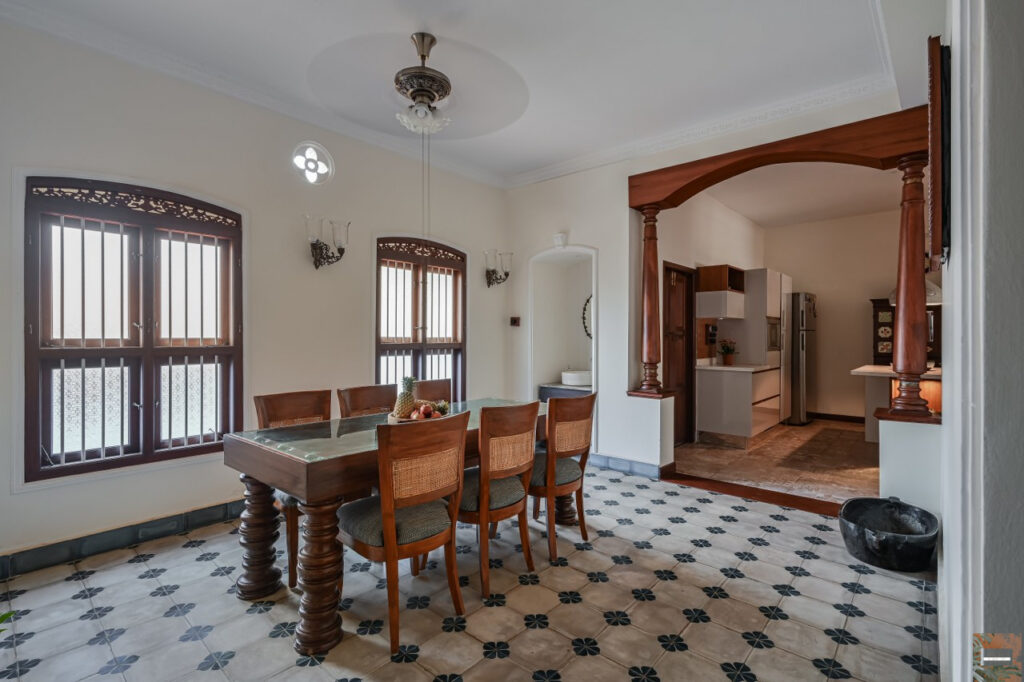 My mum & brother are great cooks and my dad and me are great eaters so the island is where the initial tasting is done and we tend to have a lot of conversation around it and ofcourse to introduce more space in the kitchen space, the island was planned.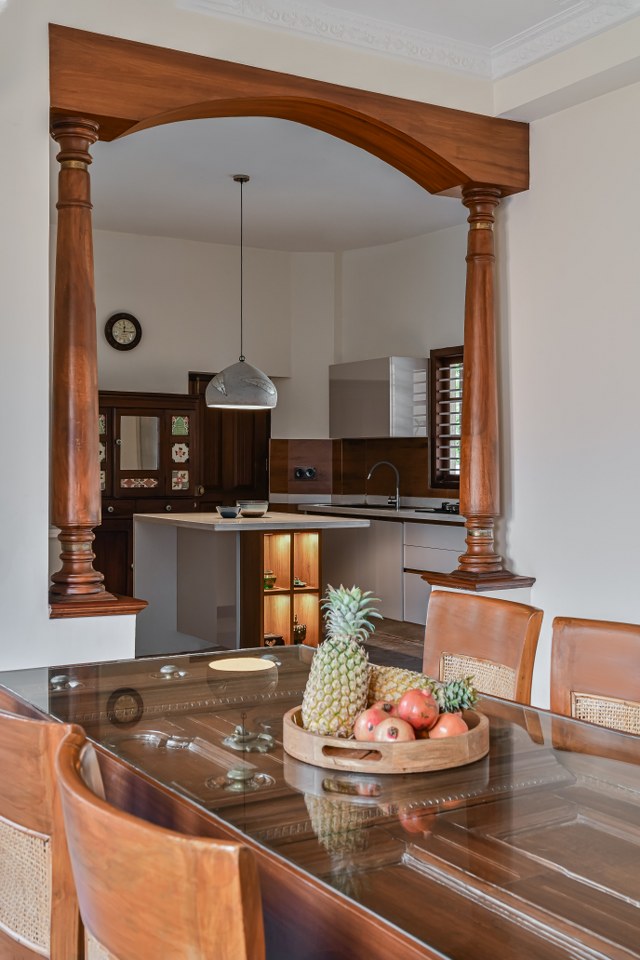 The light above the island is a handmade light with a leaf inlay on it that we procured from Purple Turtle, Bangalore. We picked up an antique wardrobe from Karaikudi again, and use it as a crockery unit in the kitchen.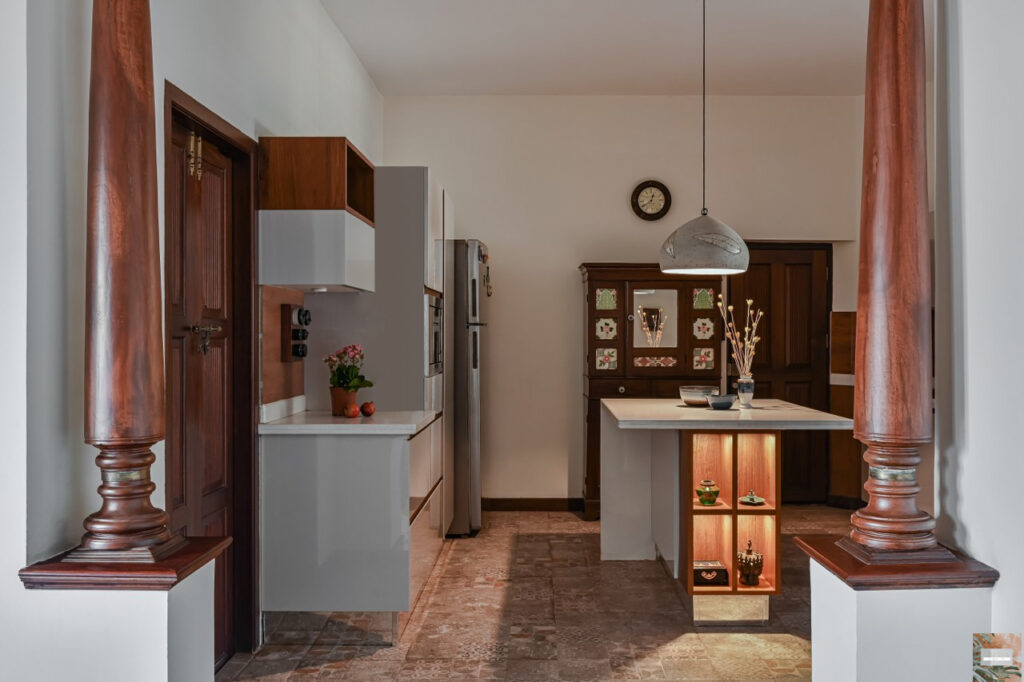 The ground floor also accommodates the master and guest bedrooms, with attached bathrooms and walk-in closet spaces. We merged the store and clothes drying area by introducing a slab of the same height and converted it into the master bed and provided an opening into an adjacent bedroom earlier in place that was without wardrobe space to make it an exclusive wardrobe space for the master bed.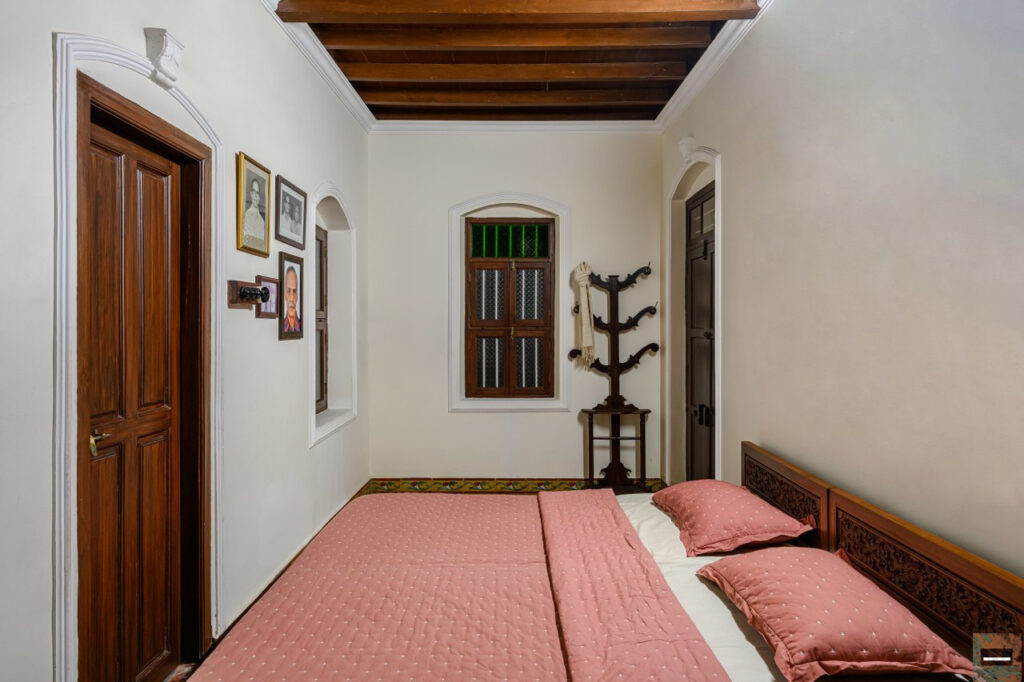 The master bedroom is dominated by natural hues of wood. The wardrobe space in the walk in is a combination of veneer bordered shutters with a strip of self embroidered fabric sandwiched between glass for easy maintenance.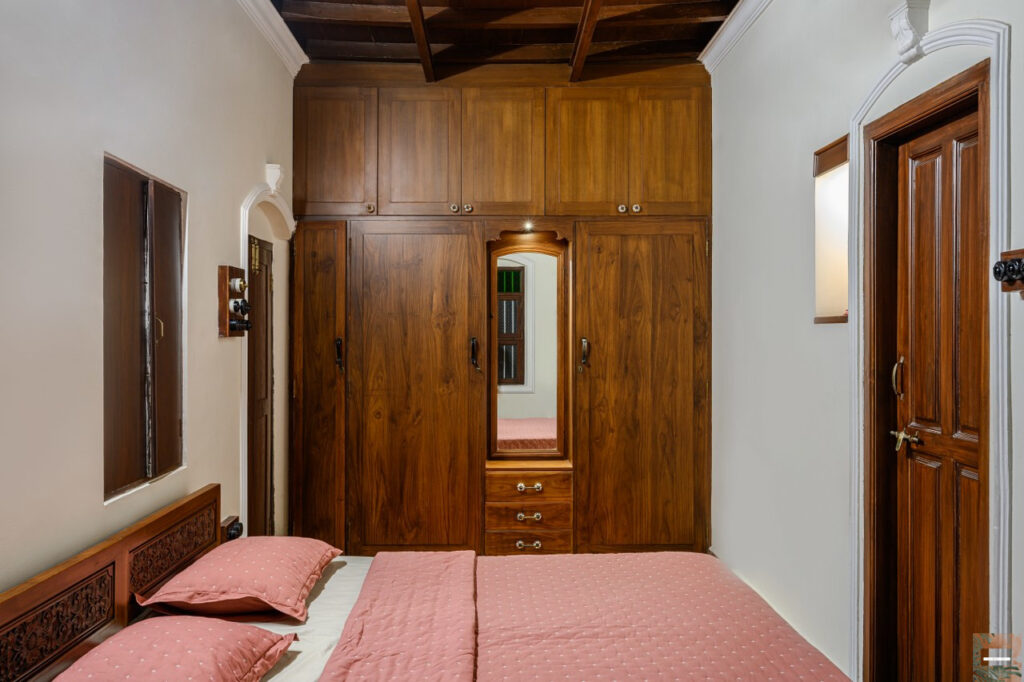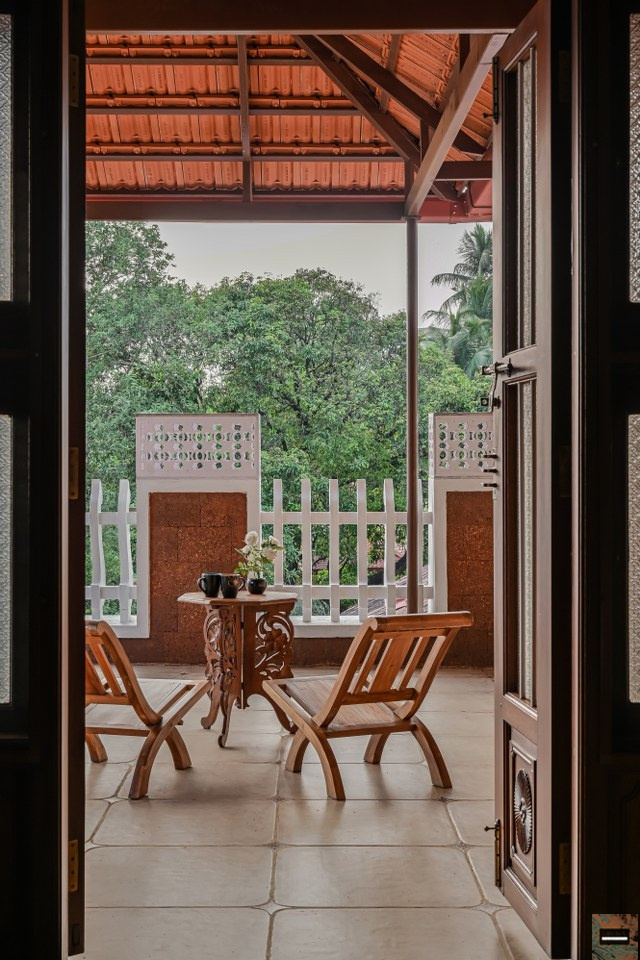 The ceiling is the slab that has been newly constructed to accommodate the balcony in the first floor level in my bedroom, clad with ceiling tiles made with clay that help provide thermal insulation and also acts as a false ceiling to accommodate the extra light fixtures.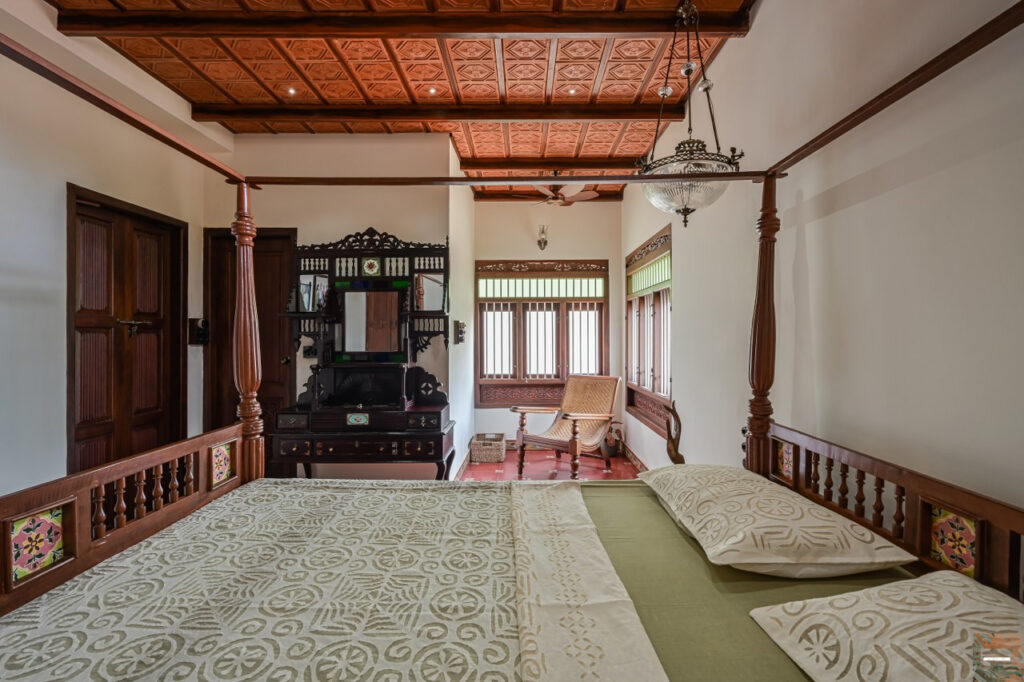 An antique mirror unit we earlier possessed, a four poster bed with antique tile inlay detail on it again bought out from the Chettinad region adorns the room with an added source of light at a 7′ level above the bed. The main windows are restricted to the nook away from the bed area for privacy reasons, we felt that adding this extra window covered with fixed glass was prudent. We have placed an antique easy chair in this nook where one could read a book or simply put your feet up and relax.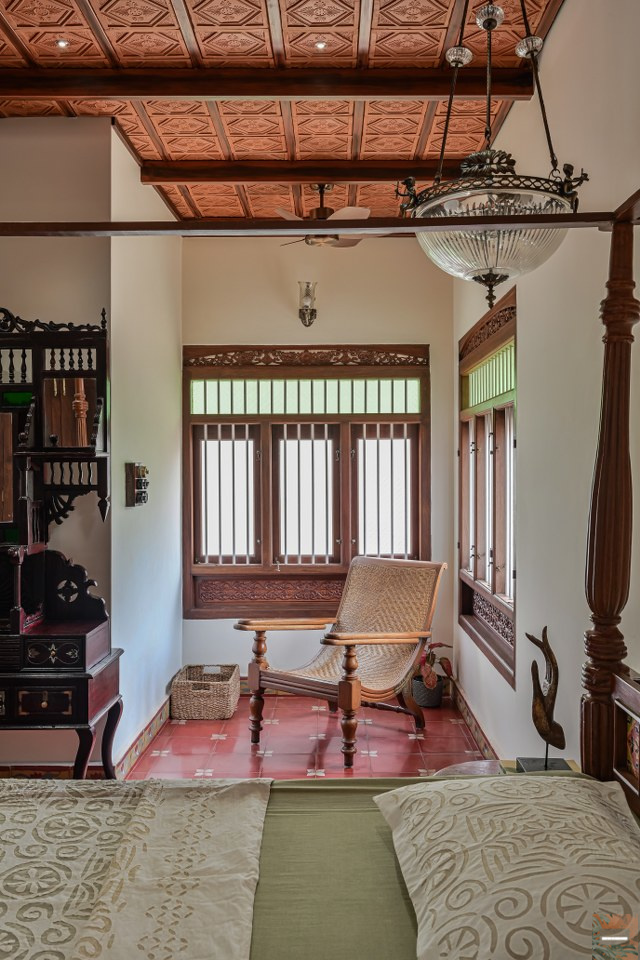 As you walk up to the first floor level, you will notice the antique wood railings on the staircase and that the character of the flooring changes. We have used yellow oxide as the base floor starting from the family room where we usually unwind and host friends. We picked up a beautiful antique chess table that we've placed on this level in one corner of the family room. The first floor earlier had 3 bedrooms, the walls of which we're broken to accommodate two bedrooms of a larger area for my brother and me.
In my bedroom, we have 2 heights of ceilings, the higher one achieved by taking down the attic space above the room which makes the room look and feel bigger. The theme of this room was to retain the traditional feel of the house and bring in a tropical touch to it.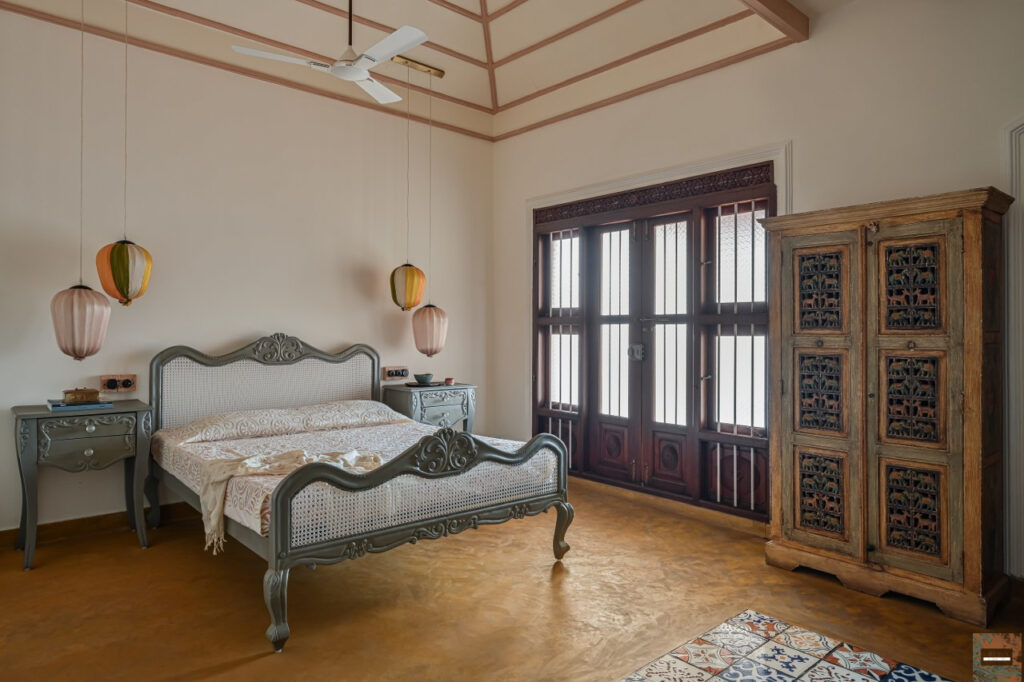 The highlights of this room are a carpet tiled patch made with printed tiles in front of the bed, a carved bed with a hint of cane with side tables, the mirror frame is actually a door frame converted into a mirror, almirah we picked up from Jodhpur a couple of years ago, the wardrobe shutters in the walk-in area is a combination of 2 types of fabrics and cane.
My room opens up to a cozy sit out covered by a Mangalore tiled structure, the parapet walls being a combination of laterite stone and Fiber jaali work to blend in with the theme as well as is easy to maintain.
The restroom mirror is a loud yet subtle frame made with antique English tiles put together and lights with petticoat lampshades throwing light on it with wall floor & niche tiles, and also basin to match the mirror tiles.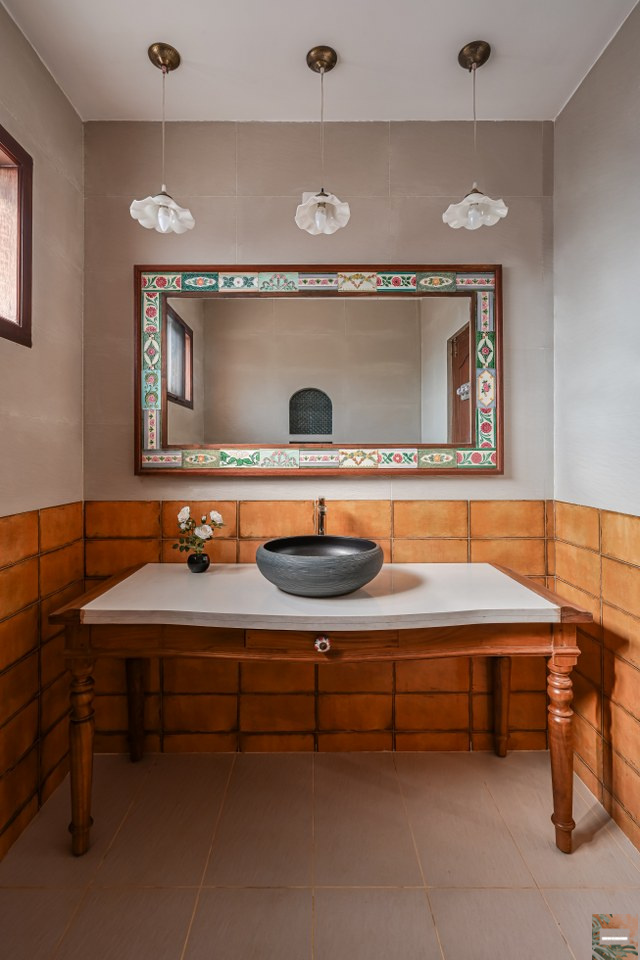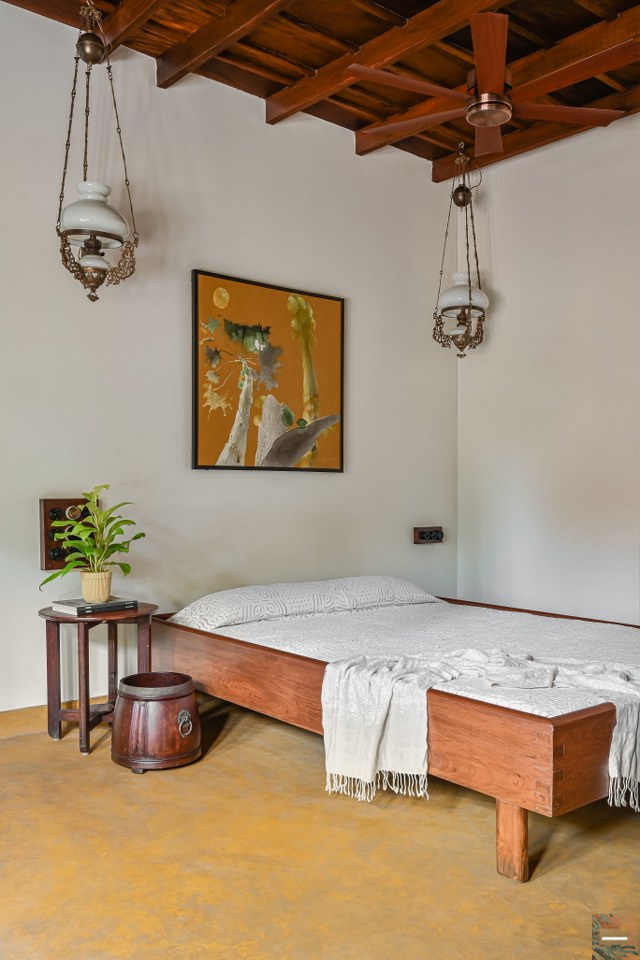 My brothers bedroom has a built-in seater against the window that makes for a cozy, restful spot, overlooking his tiny home garden. We picked up a beautiful standout antique chess table that we've placed in the son's bedroom on this level. The mirror used in his restroom is a brass frame antique mirror that was thrown away in our attic that has now come into use. .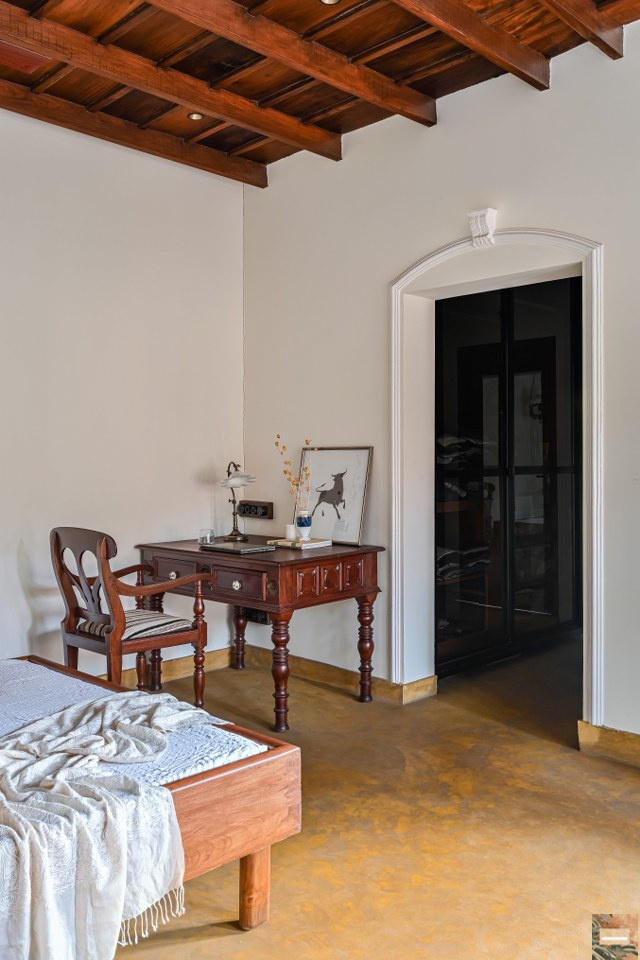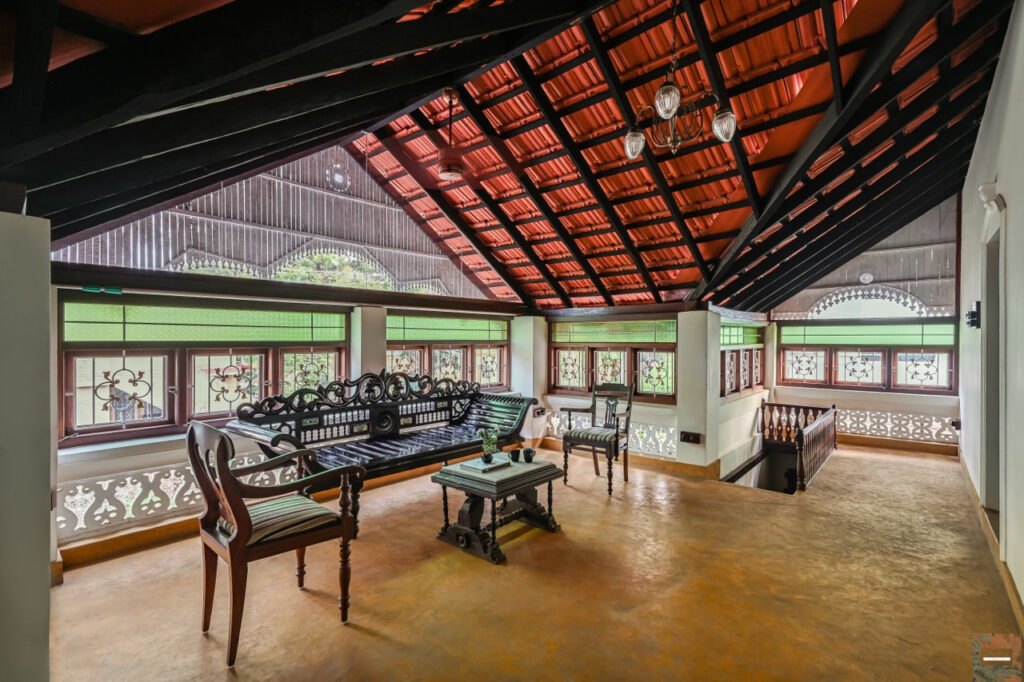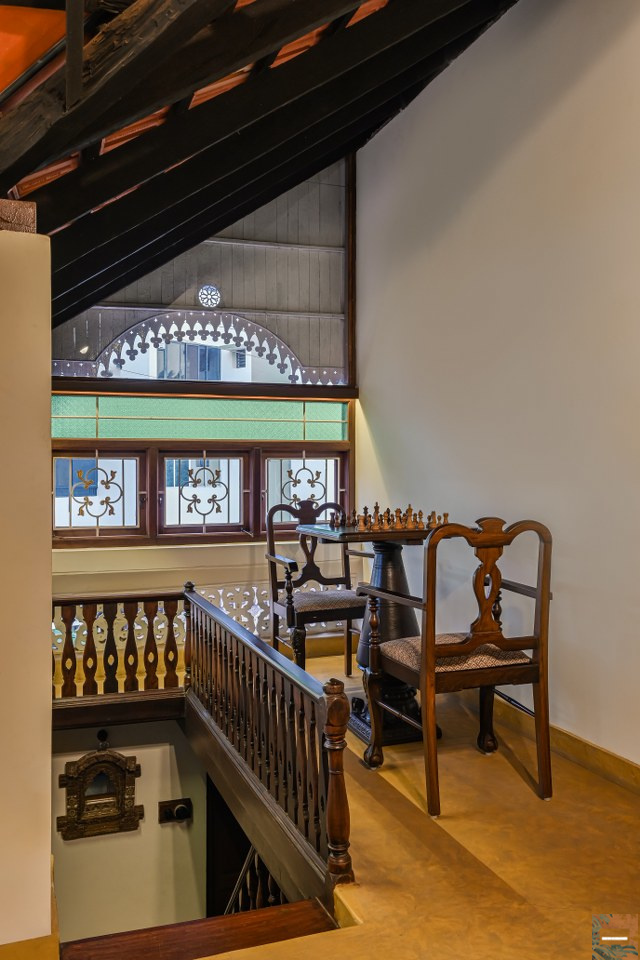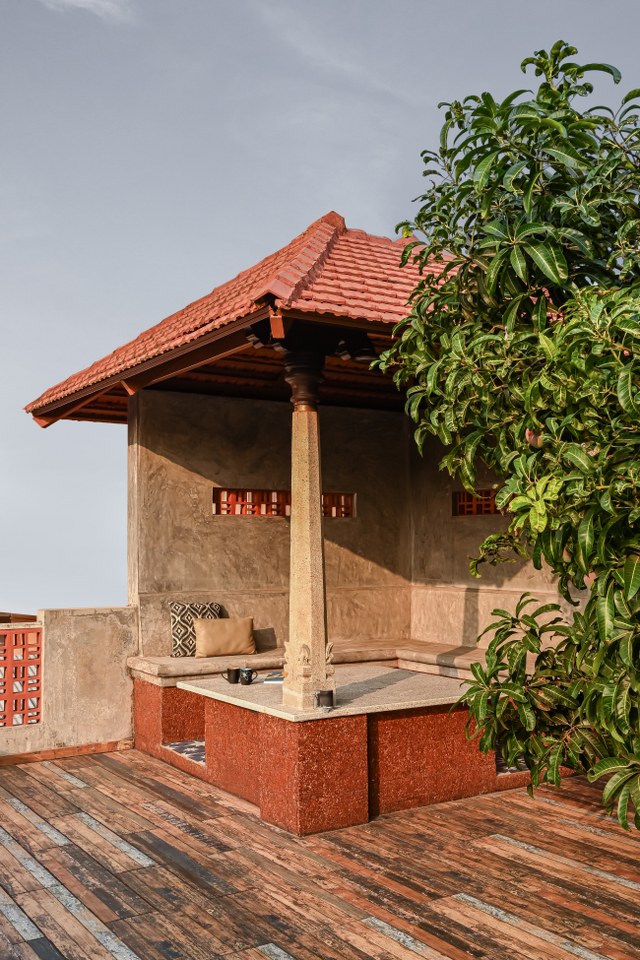 The gazebo area is a tucked in corner in the house adorned by a stone pillar where the roof rests with a laterite stone base with saderahalli stone top, accessible from his bedroom planned to accommodate friends and family during leisure time. The parapet wall is a combination of terracotta jaali and stucco finished walls
Truthfully speaking, my parents had no pre-made requirement list and had given me an open hand when we started off which made the complexities of not finding most of the elements in and around us, slightly easier as they realized and gave me all the time and support when it came to sourcing all of them and what makes me most happy is that I now see that the house turned out exactly like we as a family had wanted to live in.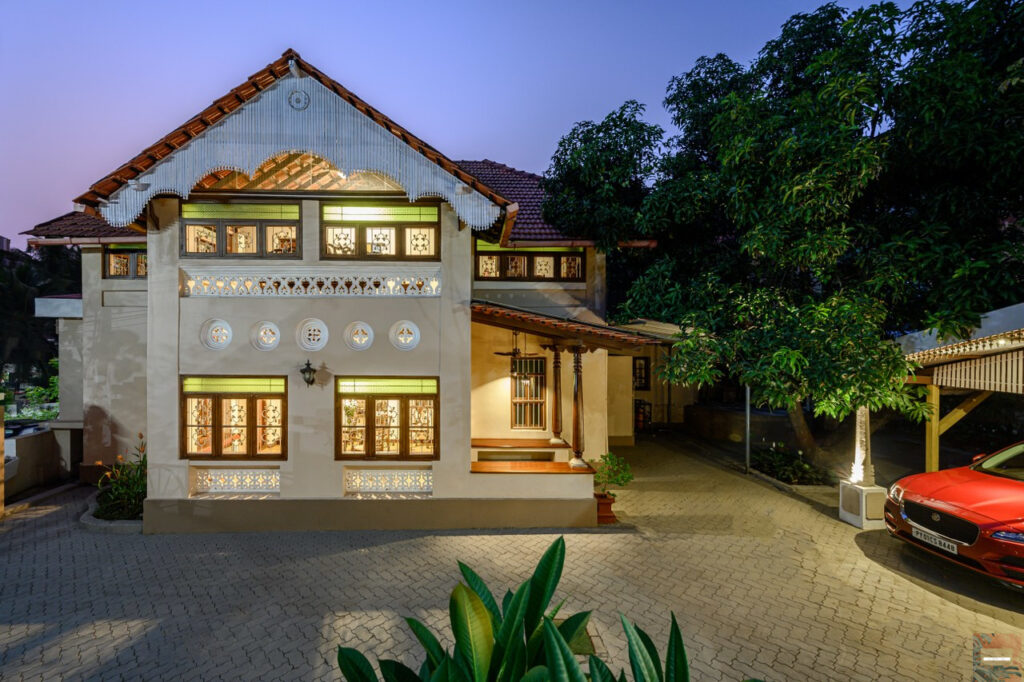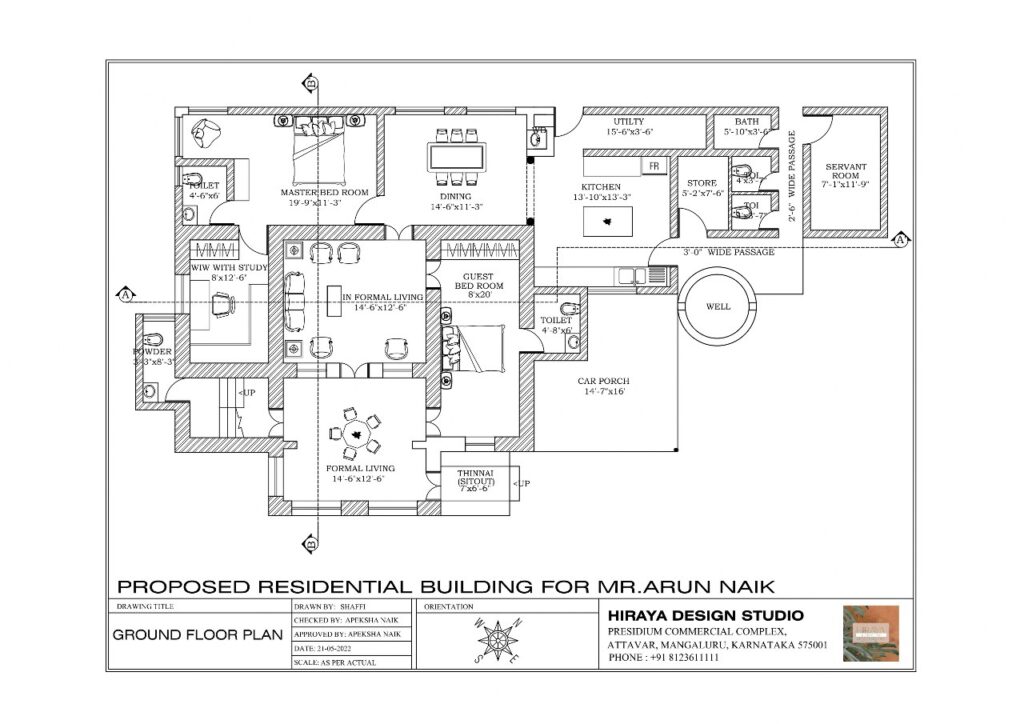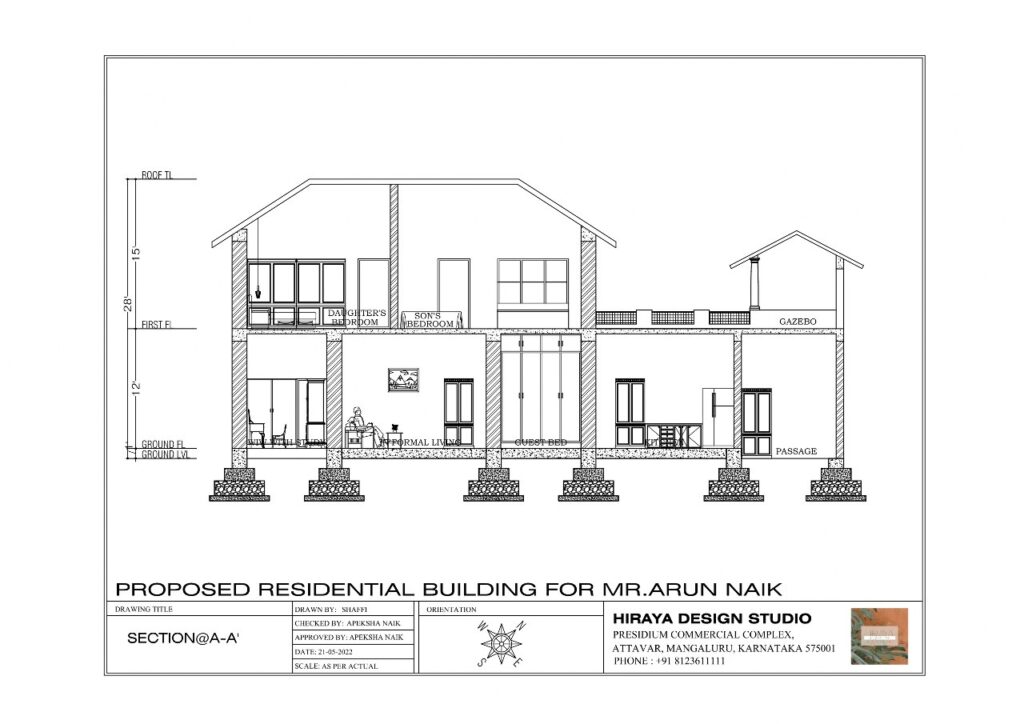 FACT FILE
Designed by : Hiraya Design Studio
Project Type : Residential
Project Name : Rajas Cottage
Location : Mangalore
Year Built : 2020
Duration of project : 1 year
Plot Area : 5250 sq.ft
Built up : 4080 sq.ft
Project Size : 4080 sq.ft
Project Cost : 4000 per sq.ft
Principal Architect : Apeksha Naik
Photograph Courtesy : Noaidwin Sttudio
Products / Materials / Vendors : Wallcovering / Cladding – Laterite Cladding, Painted lime plastered walls. Wooden arches,wooden pillars, Customised Concrete Jaali / Construction Materials – Mud walls, aterite blocks / Lighting – Purple Turtle, Prism Lights, Local Chettinad lights / Doors and Partitions – Solid wood, POP Moulded Arched Border / Sanitaryware –Jaquar, Roca, Kohler / Facade Systems – Customised Solid wood / Windows – Customised Solid wood / Furniture – Raywoods/Imago Furniture,Refurbished Chettinad antique furniture from Karaikudi vendors / Flooring – Athangudi Tiles, Yellow Oxide, Spanish Vitrified Tiles, Sadarahalli Grey Stone, Wood / Kitchen – Sleek Kitchens / Paint – Asian / Artefacts – From around the country / Hardware – Hettich, Yale, Europa.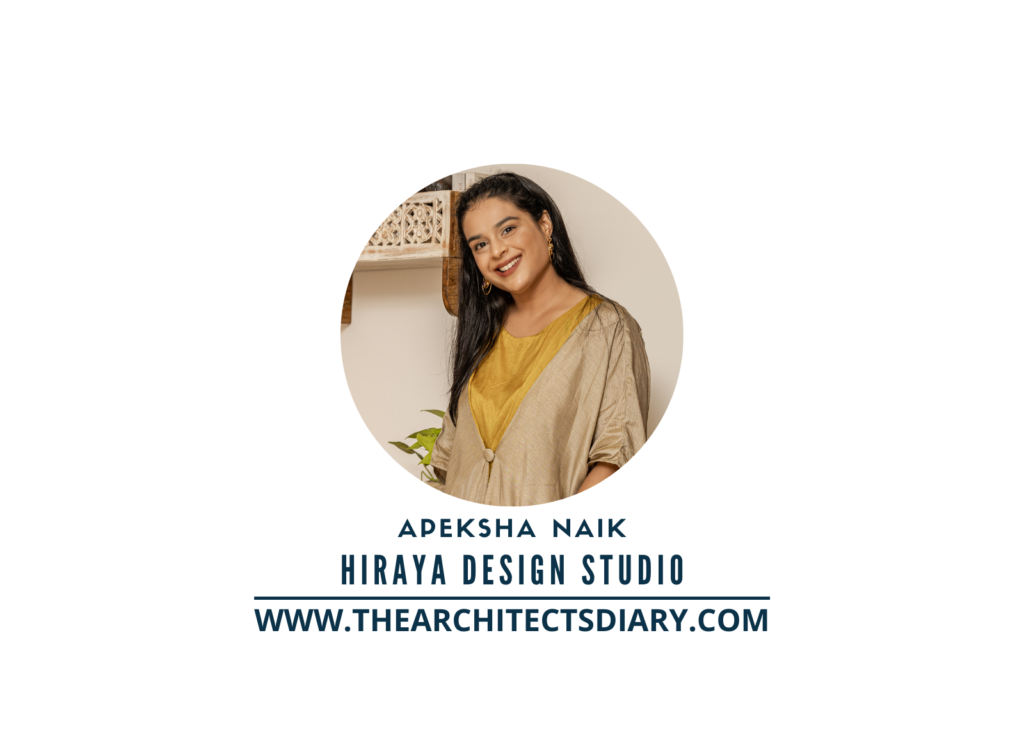 Firm's Website Link : Hiraya Design Studio
Firm's Instagram Link : Hiraya Design Studio
For Similar Project>> 'VANAJA' THE COURTYARD HOUSE IS A TRIBUTE TO OUR CULTURE AND HERITAGE