&nbsp
Small living spaces may be more friendly to our wallets, but that doesn't mean we can't make them look attractive and spacious all at once. However, getting creative in decorating tight spaces can pose a serious challenge, especially for those who are new to the experience. If you're living in a studio apartment, and want to know how to get more out of the limited space that you're already in, then this is the article for you.
Just pay attention to the following studio apartment design tips that we've put together and get ready to unleash your small living space imagination:
Studio Apartment Design Ideas
1.Get Dual-Purpose Items
As we said earlier, small living spaces pose a challenge on how we can get creative in making type spaces seem larger and attractive. One of the ways to get around this is to get a hold of items that have at least two or more uses to them. We're talking about kitchens that are fixed into closets, couches that can change into the beds, retractable drawers, and beds, among others. There are also bookshelves that can double as partitions.
2.Get Reflective with Mirrors
Small mirrors are one of the smartest apartment interior design tips in making small spaces seem bigger. Take this bathroom from Smart Design Studio for example, where a mirror is used to divide the shower stall, making it look as if the room had doubled its space. You can even use large wall-to-wall mirrors to pull this effect off. Mirrors can also maximize natural lighting in tiny spaces that would've otherwise appeared dark.
3.Enclosed Beds
Beds in closets are a timeless solution to studio apartment owners or occupants. But you can also turn it into a private bed nook by draping curtains around your bed. Adding a sense of versatility will make it less likely that you only have one room to live in. Furthermore, your bed can also serve as your dining table and living space.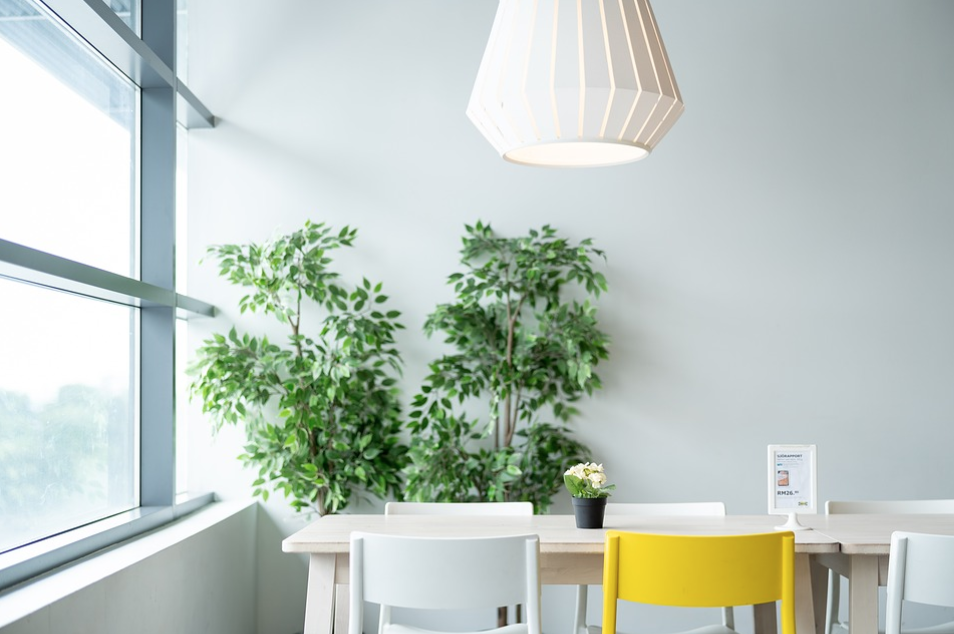 4.Get a Small Dining Table
Instead of the usual dining table that is designed for regular households, you can easily make do with a small roundtable that can also function as a breakfast nook. Doing so will save you plenty of space to move around that single room and have a pleasant family dinner. We recommend getting the CB2 Round Dining Table for $620.
If you live in a studio apartment in Canada and are looking for some stylish design ideas to make the most of your boxed-in space, you might find inspiration from the country's many great architecture and design firms. To learn more about them, click here. 
5.Brighten up with Wall Sconces
Playing around with lighting is another one of many apartment design tips that you can utilize to make your small living space seem large. Wall sconces can create just the effect you're looking for. They're just enough to create lighting for your room without taking up floor or table surface space (much like what a table lamp would do).
And the best part about wall sconces is that they can simply plug right into the wall without having to worry about tangled up wires. Some of the sconces also swivel, allowing you to play with the lighting to however you desire.
6.Free up Some Space
Sometimes, small spaces can seem a little cramped because of unnecessary junk items that only take up space without serving any purpose. That's why we believe it would be best for you to engage in some healthy decluttering of the entire space. This way, you'll have a better understanding of items that you need and don't need. And for those items that you don't need, you can either donate them, sell or even throw them away if nothing else. You'll be astonished by how much space you freed up later on.
7.Big Furniture Can Work for You
Don't take this the wrong way: we are not saying that you can magically fit large furniture in your small studio apartment – just that you should be smart with it. While small furniture does make sense in retrospect, it's not a good idea to sprinkle several small furniture items into your already restricted environment. Doing so will only make the room more cluttered and restricted. Instead, certain large furniture like couches or beds can double as beds, notes, or relaxing areas as well. Use that gray matter of yours to work out how you can take advantage of robust furniture in this manner.
8.Create a Special Unit for Sleeping and Storage
What are we talking about, you ask? Take a look at this super ingenious idea from Batiik Studio. It's an elevated bed that's been fitted inside an area that contains cabinets for extra storage. As you can see, there's plenty of space for you to fit your clothes, shoes, bathroom essentials and so much more. And the fact that it's done so with trendy dark colors makes the whole unit look both elegant and functional, a.k.a. the winning combination.
If you can get in touch with this company and have them work something like this for your studio apartment, consider yourself the smartest home dweller in the world.
9.Go with Pocket Doors
Pocket or sliding doors deserve an entry on our list of studio apartment interior design tips for a variety of reasons. Firstly, it creates separation, turning one room into two. Secondly, it allows light to be shared between other occupants of a studio apartment. And the thing about sliding doors is that they slide right into the wall, evidently taking up less space than a swinging door would.
10.Suspended Bedroom
Have you ever wondered what it's like sleeping on the clouds? A suspended bedroom is yet another ingenious solution for those living in restrained spaces. The dynamic composition of this room provides a charming focal accent of the suspended bed in the middle that's right over the working area.
What's more, is that there is a large dining room table where you can have your friends gathered all together. And the decorative accent from the urban art staircase that leads straight to the suspended bedroom platform that offers a glimpse of a romantic skylight opening gives this mini studio apartment a unique but spacious atmosphere.