Ishatvam 9 Sanjay Puri Architects new High Rise Residential Building in Ranchi
The architects explain, "Most of the city's inhabitants have been used to living in individual houses with private gardens and open spaces. As a result of this, the few high-rise residential buildings that have been constructed in this city still remain partially unoccupied due to the lack of private open spaces in them."
As a result, the architects designed the building so that each apartment, which occupies an entire floor, have access to multiple balconies with double height ceiling spaces.
The large balconies provide shelter for the interiors from excessive heat experienced in the summer months where the temperatures reach an average of 87 °F (31°C).
As a response to this need, the apartments have been designed to occupy a complete floor opening out on all sides with each room extending into twenty feet high, double height decks. Each of the internal spaces thus extends and into private sheltered open spaces.
The apartments are designed with minimal internal circulation spaces with a large living dining area located centrally from which all the rooms are accessed. This layout is done in response to the social habits of the people in the city where 3 generations are generally living together in the same house. The living room becomes the focal place within the house allowing for increased interaction between the various family members. Most of the existing development around the plot being low rise, each apartment has views of the openness of the surroundings in each direction.
Photography by Dinesh Mehta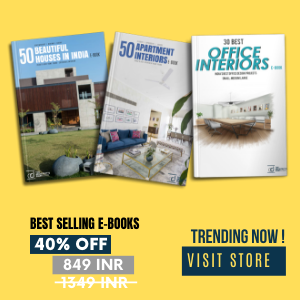 &nbsp