CELEBRATING 5 YEARS OF FOAID 
Post-event report Mumbai edition :

lavish inaugural launched by distinguished architects and designers kick-started the Festival of Architecture and Interior Designing into its 5th year of design celebration. As FOAID received over 3000 prolific minds from around the country at the Mumbai edition, it truly transformed into a networking platform to exchange ideas, inspire and engage in knowledgeable conversations about the design industry. The Design Arena had visitors witness art and furniture installations designed by students. Illustrious architects and designers showcased over 250 built, un-built and ongoing national and international projects at the exhibition. FOAID brought about an air of interaction and expanding vision.
Having brought together prominent panelists, speakers, and jury members, the conference organized a number of keynote addresses, presentations, panel discussions and competitions across two days. The topics for the conference were conceived to inspire and encourage delegates to raise questions and initiate a conversation. Design Manthan at FOAID was especially an excellent opportunity for all delegates traveling from other cities to be guided by and intermix with key designers present at the event as speakers & jurors.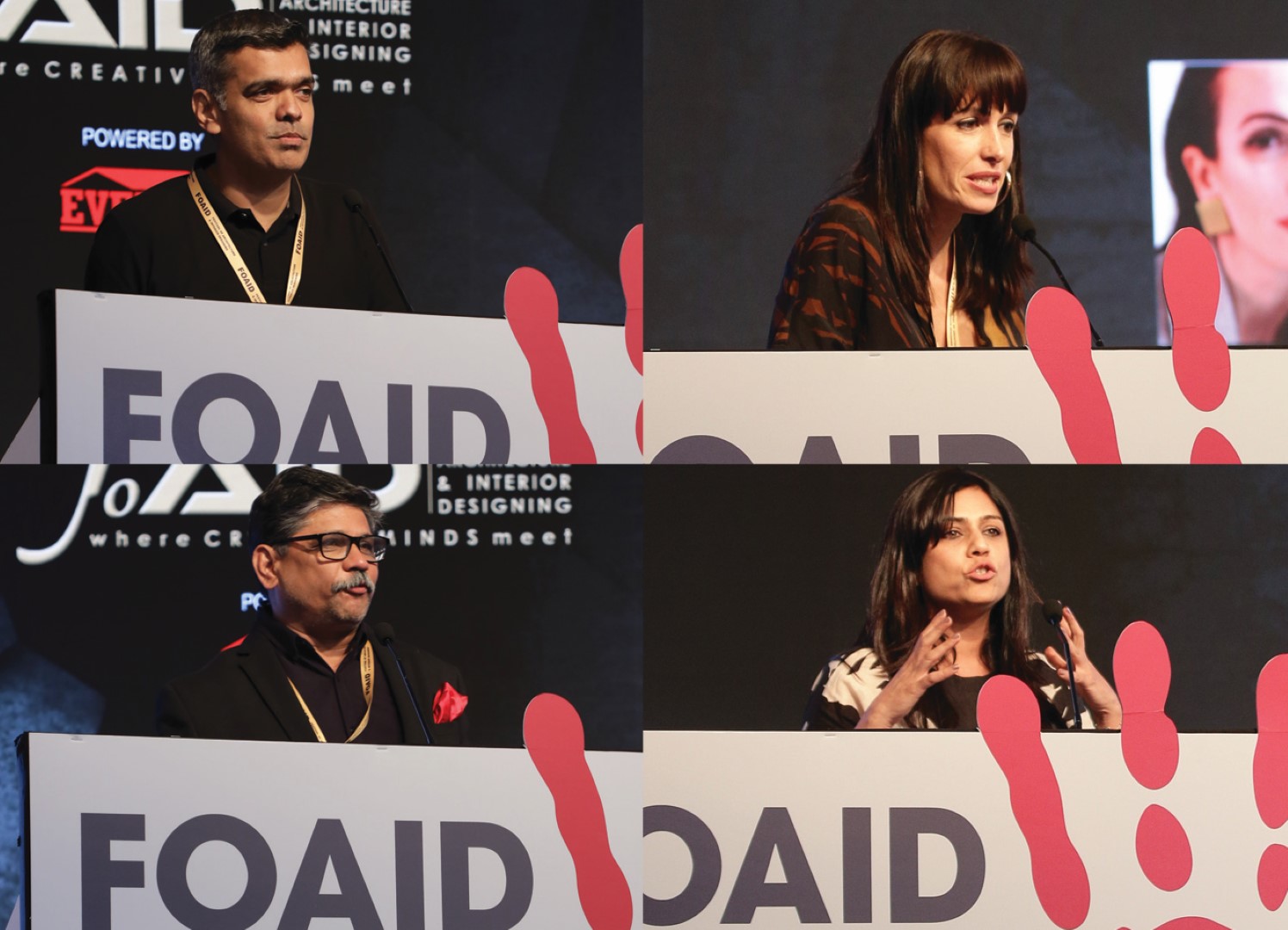 (L-R) Sunil Philip, Patricia Emma Fernandez Ortiz, Vivek Gupta, Richa Bahl (Large)
The panel discussions were devised keeping in mind the theme for the edition, 'Time to Re:Imagine'. These covered a wide range from presenting personal views over the practice of collaborating with foreign firms to a light-hearted dialogue on design becoming a visual spectacle. Eminent designers like Naresh Narasimhan, Tony Joseph, Asha Sairam, Tony Kunnel, Nuru Karim, and many more and many more delivered compact and inspiring presentations on varying topics.
The topics for the conference were conceived to inspire and encourage delegates to raise questions and initiate a conversation. One such topic that garnered soared attention from the audience was a discussion on fees in the profession. Prashant Sutaria steered the discussion with fellow panelists Anubhav Gupta, Barun Pal Chowdhury, J.P Agrawal, Ratan J Batliboi, Sandeep Shikhre and Virendra Khare. The panel corresponded ideas through which the fee structure can be re-imagined, amongst other things.
(L-R) Prashant Sutaria, Anubhav Gupta, Barun Pal Chowdhury, J.P. Agrawal, Ratan J Batliboi, Sandeep Shikre, Virendra Khare during panel discussion (Large)
Anubhav referenced foreign practices while suggesting migration from the quantity of area standpoint to a staffing exercise while structuring fees. Ar. Batliboi and Mr. Barun agreed to a counterpoint. They opined working smarter, establishing and respecting your own worth and not agreeing to anything lower than what you deserve as key changes that need to be made to handle client dealings. "How can you choose somebody based on the fee structure?" Sandeep questioned. His applaudable monologue touched upon all factors contributing to the unequal practices in the profession. He recognized the architect as an artist whose value is bargained and negotiated. To tackle some of the issues he presented various solutions like raising the fee structure, negotiation of fees before commencing a project and redefining the relationship between the tangible value of a firm and the remuneration it receives.
As J.P rightly said, the fees may be subjective but there need to be benchmarks for salaries of fresh graduates as is the case with other courses. Virendra shared his advice to younger designers. While acknowledging the difficulties and disparities in the income structure, he strongly backed working hard without expectations at the start of one's career. A higher project quality will speak for higher fees in future projects. The discussion covered the responsibilities of the council as well as the norms of competitions. The panel came to a close after an elaborate question-answer round from the audience.
Yatin Patel, DSP Design Presenting during the conference (Large)
Ar. Yatin Patel of DSP Design, Mumbai spoke about his firm's area of specialization, offices. He talked about the demographics of the current working population and what is in place for the design of future office spaces. "Who is the client? What are we designing for?" are the questions he addresses before commencing work on any project. With statistics in place reiterating the fact that 75% of the working population would consist of millennials by the year 2030, he listed factors brimming with what makes the millennial workforce tick. They are not afraid to change jobs. They need space but also interaction. Minding their seemingly preferred dynamic variety of options, Yatin's 'Adaptable Offices' concept allows them the freedom to co-habitat a working space flexible to their needs. "Work is not a place to go, it is an activity," he stated. By giving up the desk, one can gain the whole office. From public to semi-private and private, each area is designed to collaborate, converse, concentrate or relax and socialize. They also concentrate on well being and biophilic design as a way of connecting with nature and unwinding. This way of design gives a whole new atmosphere to the usual office.
Moreover, a series of unique & brief presentations by four creative minds namely Patrica Emma Fernandez Ortiz, Richa Bahl, Sunil Philip, and Vivek Gupta made for an engaging analogue. D Talks encouraged fun and thoughtful correspondence on'Purpose fuels Passion'. The award ceremony felicitating winners of the various competitions like Everest Design Challenge, Expressions, Architecture Ideas, Creative Minds Next conducted by FOAID brought forth a range of untapped and budding talent.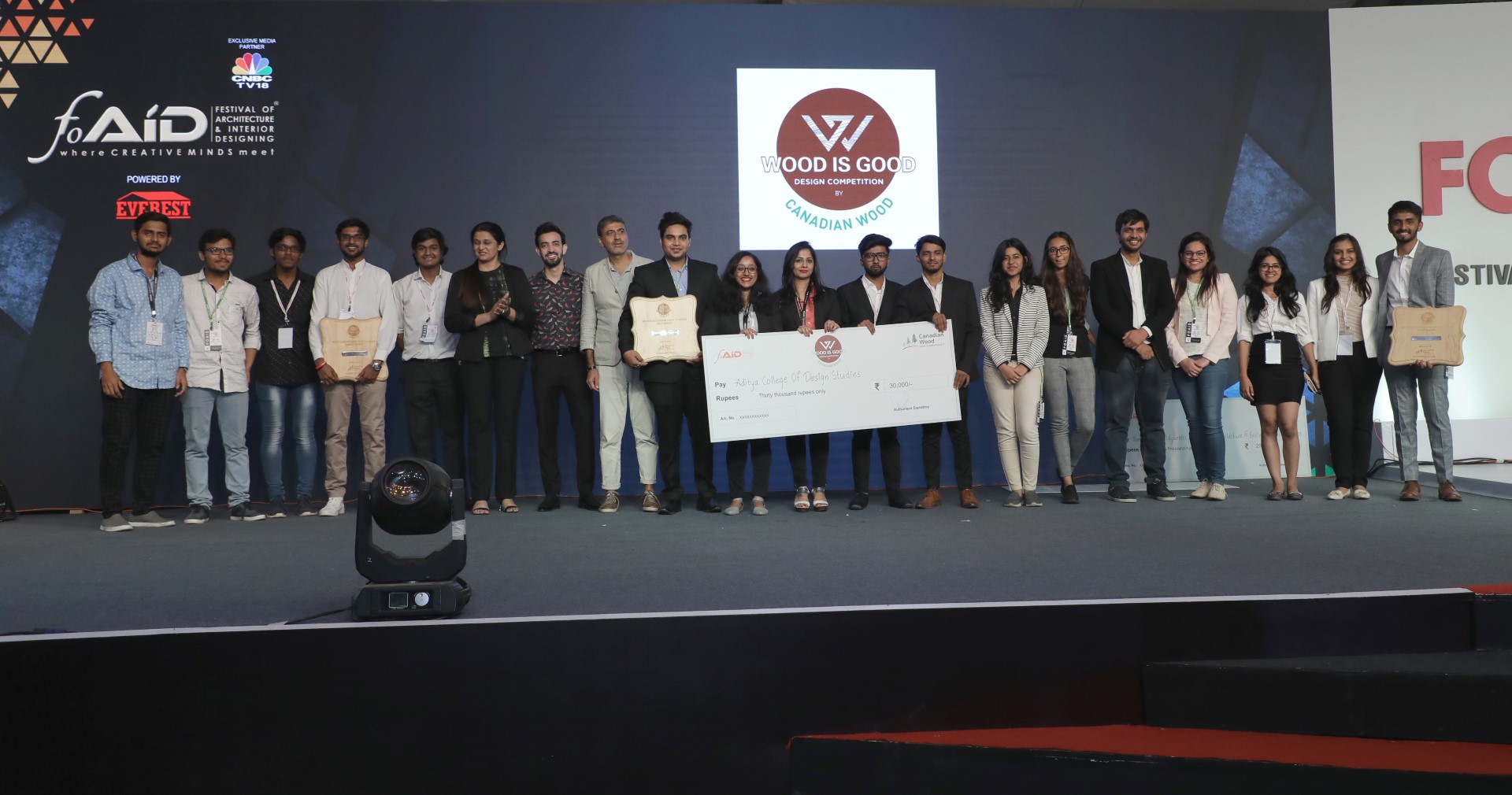 The annual furniture making design competition, 'Wood is Good' invited design students from architecture and design schools to showcase their upcoming talent & creativity. The creations stemmed out of Canadian wood, sustainably sourced from the forests of Canada encourages upcoming talent. Aditya College of Design and Studies emerged as the winner for their installation, 'The Dexterous Box'. Kamla Raheja College for Architecture and Environmental Studies and Bharti Vidyapeeth College of Architecture were the first and second runner-up colleges respectively. Aakif Habib, Ali Baldiwala, Huzefa Rangwala, Shaheen Mistry, and Tejal Mathur served as the mentors for the five participating colleges.
Noticeably, the 5th edition of FOAID was a grand success. The event weaved together a varied set of activities and events to keep the visitors captivated. The event will celebrate the world of design again next year with a renewed vigour and equal dedication.